EPA chief Scott Pruitt met with Dow Chemical CEO. Then the EPA changed course on a pesticide ban.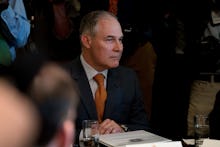 In March, Trump-appointed Environmental Protection Agency Administrator Scott Pruitt met with Dow Chemical CEO Andrew Liveris. Just a few weeks later, Pruitt announced that the EPA would not continue a push to ban a common pesticide — one made and sold by Dow Chemical.
According to records obtained by the Associated Press, Pruitt and Liveris had a half-hour meeting scheduled at a Houston hotel on March 9. Though that meeting was canceled, the AP later reported, an EPA spokeswoman told the wire service that Pruitt and Liveris had a "brief introduction in passing" at a conference they both were attending.
Twenty days later, Pruitt announced that the EPA would not move forward on a petition to ban chlorpyrifos — a common pesticide that is widely used on produce in the United States — from being used on food.
Pruitt made the announcement despite the EPA's own scientists concluding that "even minuscule amounts" of chlorpyrifos, when ingested, could interfere with fetal and infant brain development, the AP reported.
What is chlorpyrifos?
Dow Chemical has been selling chlorpyrifos since the 1960s, and currently sells about 5 million pounds a year in the U.S., the AP reported. One of the most common agricultural pesticides in the country, chlorpyrifos is used on apples, cherries and citrus fruits, among other produce.
The pesticide makes its way into drinking water, and just small amounts of have been shown to have harmful effects on pregnant people, fetuses, infants and children.
In 2000, Dow stopped selling chlorpyrifos for at-home use, and in 2012 the EPA mandated "no-spray" zones for the chemical near vulnerable sites like schools. The Obama administration had proposed banning the pesticide altogether, but Pruitt's recent announcement indicates that the EPA is now moving in the opposite direction on the issue.
Liz Bowman, a spokesperson for the EPA, told the AP on Tuesday that Pruitt and Liveris were "briefly introduced" in March and that "they did not discuss chlorpyrifos."
"Despite several years of study, EPA has concluded that the science addressing chlorpyrifos remains unresolved," Bowman told the AP. "We will make a decision based on the science, not on real — or perceived — pressure from companies or environmental activists."
In an open letter to Pruitt on Tuesday, the American Academy of Pediatrics and the Environmental Working Group urged Pruitt to change his decision, the Hill reported.
"We are deeply alarmed by EPA's decision not to finalize the proposed rule to end chlorpyrifos uses on food," the letter said. "The risk to infant and children's health and development is unambiguous."
April 3, 2018, 7:09 p.m.: This story has been updated to incorporate new information from the Associated Press.