'Pokémon Go' Raids Near Me: How to find raid battles and locate rare Pokémon with the nearby feature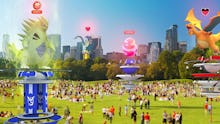 The Pokémon Go raids Nearby feature is a crucial weapon in a trainer's arsenal. Everyone level 20 and above probably knows that the main map view in Pokémon Go will show a countdown timer revealing when red and yellow eggs will hatch their raid bosses. But what if you want to know exactly what time those Pokémon Go raids are taking place? The game has you covered there too.
Pokémon Go raids near me: Viewing the schedule of raid battles happening near you
The official Pokémon Go app allows players to see not only what Pokémon are nearby but also what raids. From the main map view, you'll see a countdown timer that shows how long until those raid will take place, but there's a way to see exactly what time they'll occur as well.
First, tap on the bar in the bottom right corner of the app to pull up Pokémon Go's radar view. Then go over one tab from "Pokémon" to "raid." You'll see a number next to the word denoting how many raids are taking place nearby, as well as "ongoing," for raids currently taking place. If a raid isn't active at the moment, you'll see the time it will go live. This tells you around exactly what time a raid boss egg will hatch, allowing you to fight and — hopefully — capture that Pokémon.
Unfortunately, the raid schedule only appears to show raids that are about to occur, not those happening later in the day. Savvy players can, however, see what raids are happening soon outside of their radius thanks to locator sites. Combine the two for Pokémon Go raid battle dominance.
More Pokémon Go news and coverage
Raids are here! See how to locate the best ones and why they may be the key to legendary Pokémon. In the meantime, here's how to catch tier 4 raid bosses like Charizard. Find out how to determine how long it will take you to reach level 40, and see what we think of the Gen 2 Pokémon added to the game. Here are the kinds of Pokémon you get from 10-kilometer eggs, and here's where you can check out what you missed during the Water Festival and Solstice events. Find out more about the upcoming Chicago event and why you'll probably be able to catch Unown while you're there— if you're not busy searching for rare evolutionary items, that is.