'Pokémon Go' Raid Times at Night: Players speculate on when raid battles start and stop, and why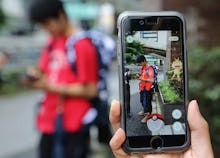 Confused by Pokémon Go raid times? Here's what you need to know about why raid battles aren't available at night — and how that might change.
Pokémon Go players have been participating in raids for a little under a week now. This is some of the first truly new content to be added to the game in a good while, so it's easy to understand why everyone is clamoring for the chance to catch strong Pokémon and reap rewards like Golden Razz Berries and TMs.
Unfortunately, not everyone is getting the opportunity to participate, either due to the current level cap or — strangely enough — because apparently raids start shutting off at certain times of night.
Pokémon Go raid times at night: Exact start and end times are still unclear
Fans have been hard at work trying to figure out exactly when raids start. In a thread on the Silph Road subreddit, a player reported seeing their first raid start at 8:05 a.m., while others reported eggs appearing over gyms as early as 5 a.m. — though that just indicates a countdown to the actual raid. The thread is full of players confirming raid start times prior to 8 a.m., and a few players saying they've seen raids going as late as 8:37 p.m. or even 9:14 p.m.
Raids starting this late would be good news for Pokémon trainers who mostly play at night, but other players reported there were no raids after 9 p.m. and no timers showing up after about 7:30 p.m. Another thread on the Silph Road raised the question of whether raids might shut down in the evening for safety concerns. While this is a very real consideration Niantic would be right to take seriously, it does put some players at a disadvantage. Players in the southern United States and Australia have commented that it's equally unfeasible and unsafe for them to try to take gyms in the daytime, when temperatures can crest 100 degrees Fahrenheit.
Unfortunately, there's no easy fix. Other posters brought up issues of trespassing if Niantic were to extend raiding hours into the late evening and early morning. Another player posited there simply might not be enough trainers playing at night to make a fun raiding experience, and with the update being in beta, Niantic might not want to deal with the bad press.
Those arguments notwithstanding, raids are still in their early days. Hopefully, Niantic will have a solution that's a little more egalitarian by the time the Pokémon Go Fest Chicago live event happens in July.
More Pokémon Go news, updates, tips and tricks
Raids are here! See why they may be the key to legendary Pokémon. Find out how to determine how long it will take you to reach level 40, and see what we think of the Gen 2 Pokémon added to the game. Here are the kinds of Pokémon you get from 10-kilometer eggs, and here's where you can check out what you missed during the Water Festival and Solstice events. Find out more about the upcoming Chicago event and why you'll probably be able to catch Unown while you're there — if you're not busy searching for rare evolutionary items, that is.