'Call of Duty Infinite Warfare' Update 1.17: Double XP summer event brings new weapons and more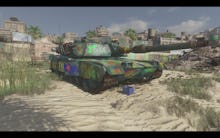 Who doesn't love double XP for a game event? Overwatch recently did a double XP weekend and it seems Call of Duty: Infinite Warfare is next. Here's what you need to know about update 1.17 for the popular online shooter.
Call of Duty has started its Days of Summer event with a new patch update that not only includes double XP, but also new weapons. The update covers Call of Duty: Infinite Warfare, along with Call of Duty: Black Ops III, and Call of Duty: Modern Warfare Remastered
Call of Duty: Infinite Warfare update 1.17: Double XP is just part of it
According to PVP Live, the summer event will give double XP, double keys, double weapon XP and double mission XP — there's plenty to get excited about!
In addition, lets take a look at the new guns listed in the patch notes on Reddit:
Trek-50 (single fire ballistic sniper rifle)
Some other content has been added to the other games in the franchise. For example, for the remastered Modern Warfare, they added a remake of the map "Bog" but with a beach theme. Check out all the details from Days of Summer here.
More gaming news and updates
Check out the latest from Mic, like this essay about the sinister, subtle evils lurking in rural America that Far Cry 5 shouldn't ignore. Also, be sure to read our review of Tekken 7, an article about D.Va's influence on one Overwatch player's ideas about femininity and an analysis of gaming's racist habit of darkening villains' skin tones.