FBI agent indicted in LaVoy Finicum shooting as police evade punishment for killing black people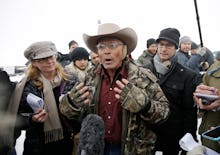 After several days that saw three trials involving fatal police shootings of black people end in acquittals or mistrials, efforts to hold law enforcement officers accountable for their actions saw a rare victory Tuesday.
According to Oregon Live, an FBI agent has been indicted for allegedly lying about the Jan. 26, 2016, shooting death of LaVoy Finicum, a 54-year-old white man who joined Ammon Bundy and several other white militiamen in an armed occupation of the Malheur National Wildlife Refuge near Burns, Oregon, that winter.
Finicum was shot and killed by state police troopers after swerving into a snowbank to avoid a traffic stop on a rural highway. He reportedly stepped out out of his vehicle, dared the troopers to shoot him and allegedly reached for a 9mm handgun in his pocket. He was struck by three bullets.
The indicted FBI agent allegedly fired two shots at Finicum as well, both of which missed. But according to investigators, none of the five FBI agents on the scene admitted to firing a single shot. The agent now stands accused of "making a false statement with intent to obstruct justice," Oregon Live reported. The four other agents are under investigation for covering up their colleague's actions. The status of that investigation is unclear.
Oregon's U.S. Attorney Billy J. Williams is scheduled to publicly announce the name of the indicted agent at a press conference Wednesday afternoon. The indictment comes seven months after Bundy and six of his followers were acquitted on conspiracy and firearms charges for their role in the 41-day occupation.
The standoff, which made national news, saw the group of heavily-armed white men — aggrieved over government control of public lands in the American West — taking over the wildlife refuge for several weeks, during which they rifled through Native American artifacts being kept there and defecated on sacred Northern Paiute burial grounds, among other transgressions.
Burns Paiute tribal council member Jarvis Kennedy described the mess they left behind as "disgusting."
Meanwhile, the length of the occupation, coupled with the relatively gentle treatment — including their acquittal — of its white participants has encouraged speculation around how Bundy and friends would have been treated if they were black or Muslim. And now, with the FBI agent's indictment, an armed white militia is closer to securing criminal punishment for an allegedly dishonest law enforcement officer than most black police shooting victims could dream of.