Ten Commandments monument at Arkansas Capitol destroyed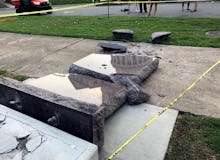 A controversial monument listing the Ten Commandments at Arkansas' state Capitol was destroyed early Wednesday, one day after its installation.
According to Arkansas Online, the secretary of state's office received reports of a man driving his vehicle into the 6-foot-tall, 6,000-pound statue. The monument was knocked off its platform and smashed into several pieces.
Thirty-two-year-old Arkansas man Michael Tate Reed was arrested in connection to the incident Wednesday morning. The suspect faces charges of defacing objects of public respect, trespassing on Capitol grounds and first-degree criminal mischief, the paper reports.
Secretary of state's office spokesman Chris Powell told Arkansas Online that investigators believe the suspect recorded himself during the crash.
A Facebook Live video published under the name Michael Reed appears to show a vehicle crashing into the monument from a driver's seat point of view, with the voice of a man shouting "freedom!" The 18-second video ends just after the car hits the statue.
The monument was placed on state Capitol grounds Tuesday, after two years of debates exploring a potential breach of the separation of church and state.
Despite this controversy, in 2015, Arkansas passed the Ten Commandments Monument Display Act, allowing the statue to be installed on state grounds. The legislation states that the Ten Commandments "represent a philosophy of government held by many of the founders of this nation and by many Arkansans and other Americans today."
The American Civil Liberties Union of Arkansas announced Tuesday that the group planned to file a lawsuit in an effort to remove the monument.
"At a time when we do not need any more religious conflict and divisiveness in the world and in this country, it violates the First Amendment promise of religious liberty to all," Rita Sklar, the organization's executive director, told NPR.
Powell told Arkansas Online that the state expected such pushback regarding the monument, but the immediate destruction of the statue still came as a surprise.
"We had some concerns, just because this was such a highly charged issue with some people," Powell said.