'Game of Thrones' star Emilia Clarke filmed more in Belfast. What does that mean for Daenerys?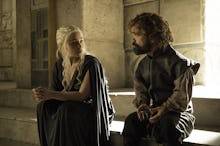 Ever since Game of Thrones' explosive sixth season finale, viewers all over the world have been waiting to see where Daenerys Targaryen will be when the series returns to HBO. Fortunately, with season seven set to premiere on July 16, fans do not have to wait much longer to find out. But for those who cannot stand another second of uncertainty, series star Emilia Clarke may have just revealed some locations where we might find the Mother of Dragons.
(Editor's Note: Possible spoilers ahead for season seven of Game of Thrones.)
Speaking with Rolling Stone, Clarke made sure not to divulge too much info as to the upcoming storylines, but the actress did drop a small hint regarding Daenerys' whereabouts.
"Spoiler alert – I normally don't spend very much time in Belfast, but this last season I spent a little more time there," she said.
Titanic Studios in Belfast, Northern Ireland, is the main headquarters for the series' production and filming. But while Clarke has shot some of Daenerys' scenes there in the past — namely those in the Great Pyramid of Meereen — the studios in Belfast are primarily used for Westeros' interior shots. Of course, Daenerys has not quite made it to the Seven Kingdoms... yet.
When Game of Thrones was last on the air, Daenerys finally set sail for Westeros. The Mother of Dragons has planned for years to claim her rightful place upon the Iron Throne (currently occupied by Cersei Lannister), and now that she has a rather massive army behind her, she is ready to seize her birthright. The latest trailer has all but confirmed that Daenerys and her army will be somewhere in Westeros during season seven, and Clarke's recent comments give fans a good idea of exactly where she may eventually wind up.
Scenes that take place both in the Red Keep and the Iron Throne in Kings Landing, are shot at the studios in Belfast, which means it is possible that viewers will be seeing Daenerys confront Cersei at some point in the new season. And though this is not necessarily shocking — as it was also recently revealed that Ellaria Sand, whose ships are currently sailing with Daenerys' fleet, would likely be spending time in Kings Landing — the thought of seeing the Mother of Dragons face to face with Cersei is a tantalizing one indeed.
One place Daenerys will almost certainly stop at in season seven is Dragonstone, the historic seat of House Targaryen, most recently occupied by Stannis Baratheon. At this point, though, it is not entirely clear whether the interior shots of Dragonstone were shot on location or at the studios in Belfast. No matter where fans see Daenerys in season seven, her storyline is certainly going to be one to keep a close and careful eye on.
Game of Thrones returns July 16 at 9 p.m. Eastern on HBO.
Mic has ongoing coverage of Game of Thrones. Please follow our main Game of Thrones hub here.