Ava Le'Ray Barrin, 17-year-old transgender girl, killed in Georgia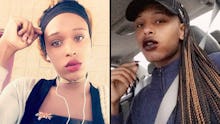 Seventeen-year-old Ava Le'Ray Barrin, a black transgender girl, was killed on Sunday morning in Athens, Georgia, transgender news blog TransGriot reported. Barrin died after an altercation with Jalen Brown, an acquaintance.
TransGriot pointed to stories in the Atlanta Journal-Constitution and the Athens Herald, both of which initially misgendered Barrin.
According to the Constitution, Brown shot Barrin in the chest during an argument. Brown is being held in Athens-Clarke County jail on charges of murder and aggravated assault.
The Herald reported that although Brown cited self-defense, investigators were disinclined to believe the claim based on witness testimony and evidence.
Barrin died at a hospital after being shot.
On Monday, Barrin's friends and loved ones gathered at the place where she was killed to hold a candlelight vigil. Many of those in attendance cried as they grieved her death.
"This is her family, y'all," one person said through tears. "This is all she had. I came all the way down here from Chicago last night, y'all. This is all she had."
Nickenson Guillaume, who organized the vigil and broadcast it via Facebook Live, said he knew Barrin for a year after meeting her at a friend's house. He said Barrin had a feminine gender expression when they met and that she announced her transition to friends in December.
"We knew Ava was happy in her own skin," Guillaume said.
According to Guillaume, Barrin often said she wanted to become a model. The last time they spoke, she shared with Guillaume her dream of going to college and moving to Los Angeles to pursue a modeling career.
Barrin's death is the 14th reported killing of a transgender woman of color in 2017. Earlier this month, Josie Berrios of Ithaca, New York, was found dead with several burns next to a can of gasoline at a construction site.