Iggy Azalea shuts down potential feud with Halsey: "I don't know her"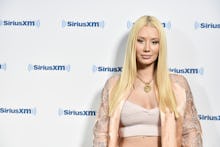 Iggy Azalea isn't letting critics make her sweat. On Thursday, pop singer Halsey called the Australian rapper a "fucking moron" and accused Azalea of cultural appropriation in an interview with the Guardian. But instead of hitting back with jabs, the rapper took a more peaceful approach when asked about the comments on Tuesday's Smallzy's Surgery podcast.
"I don't know her," said Azalea. "I've never met her or interacted with her in any capacity, so I thought it was a bit of a strange thing to kind of throw that out there. But she's young and you know I hope that she kind of learns maybe to be a bit less judgmental when she's kind of in the same shoes."
Halsey was never asked about Azalea during her conversation with the Guardian. The 22-year-old singer was initially explaining why she welcomed a feature from Migos member Quavo on her album Hopeless Fountain Kingdom. In February, Quavo had been accused of making homophobic remarks and later apologized via Twitter. This collaborative decision seemed to be in conflict with Halsey's stance as an out bisexual woman who has been vocal about LGBTQ visibility in her music. In regards to Quavo, the singer told the Guardian she couldn't "police everybody." But the conversation took a random turn when Halsey brought up an artist with whom she'd never worked.
"There's a lot of people I wouldn't put on my record," Halsey said. "Iggy Azalea: absolutely not. She had a complete disregard for black culture. Fucking moron. I watched her career dissolve and it fascinated me."
As Azalea's music grew in popularity, she faced criticism about appropriating southern hip-hop culture. Because Halsey is biracial, she perhaps felt strongly enough about the issue to call Azalea out on it. But in the end, it looks like this feud has been laid to rest before it could ever take off.
Mic has ongoing Halsey coverage. Please follow our main Halsey hub here.