When it comes to upholding the Paris climate agreement, America's mayors are leading the way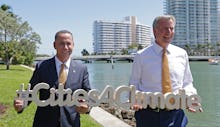 President Donald Trump might not be convinced the planet is warming, but the fight to combat climate change on the local level is heating up without his help.
In spite of an uncooperative U.S. government — and despite Trump's June decision to withdraw the United States from the landmark Paris climate agreement — mayors around the world are working together to set the agenda on climate change.
On Tuesday, a "global covenant of mayors" convened for the first time in Brussels, Belgium, to reaffirm its members' shared goal of reducing emissions and doubling down on the ambitious goals outlined in the Paris accord.
With 7,400 cities representing an estimated population of nearly 700 million on board, the Global Covenant of Mayors for Climate and Energy is well represented. Already co-chaired by former New York Mayor Michael R. Bloomberg, the covenant got another U.S. endorsement from Atlanta Mayor Kassim Reed, who told reporters he attended the international conference to "send a signal" that Trump's decision to withdraw from the Paris agreement has only galvanized local U.S. leaders.
"I've seen that U.S. mayors are more passionate and dedicated to taking meaningful action than ever before," Reed said in a statement provided to Mic. "Cities have tremendous potential to reduce emissions on a global scale and accelerate progress — we can and must deliver on the goals of the Paris agreement."
Back in America, Reed isn't alone in the fight. On Saturday, he joined other members of the United States Conference of Mayors in Miami Beach to double down on efforts to combat global warming at the local level.
Mitch Landrieu, mayor of New Orleans and the newly instated president of the USCM, said in Miami that even without federal cooperation, states and local municipalities had the power to make a difference.
"If the federal government doesn't act, it doesn't mean we don't have a national policy; the federal government doesn't occupy the only place on this," Landrieu said. "Mayors have to respond to circumstances. We have to keep moving no matter what."
Signed by more than 1,060 U.S. mayors from both the Democratic and Republican parties, the U.S. Conference of Mayors' Climate Protection Agreement is evidence of broad bipartisan support on the issue of climate change in America.
Elizabeth B. Kautz, the Republican mayor of Burnsville, Minnesota, said things like clean air and drinking water don't just matter to her — her constituents want them, too.
"Everybody cares about the environment, and everybody wants clean air and clean water," Kautz told the New York Times. "We don't really need the federal government. We are going to do what's right for our people."
While the USCM has faced difficulty finding broad consensus thus far on how to best enact change, Landrieu said no one is better suited for the challenge than the country's mayors.
"The country is hungry for results, and that's what mayors serve every day to the people in their communities. We govern in real time and reality," Landrieu said in a statement. "We don't just talk about it — or debate it. We don't have time for that."