Ethics group sues for Trump International Hotel records ahead of Republican Party fundraiser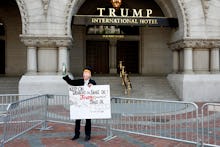 Wednesday night's big GOP dinner has President Donald Trump's name all over it — and ethics watchdogs have a problem with that.
As Trump prepares to attend a major fundraiser at the Trump International Hotel in Washington, American Oversight, a non-partisan accountability group, announced it's suing "to force the release of communications between the Trump Organization and the government agency that manages the taxpayer-owned building."
American Oversight, which is run by Democratic former government officials, filed suit in federal court against the General Services Administration for information it requested, but didn't get, under the Freedom of Information Act.
The price of entry to Wednesday's dinner is $35,000 per person, Newsweek reported. The money will be split between Trump's 2020 re-election campaign and the Republican National Committee.
"President Trump's fundraiser isn't just raising funds for his campaign, it's putting money into his personal pocketbook," Austin Evers, American Oversight's executive director and a State Department lawyer during the Obama administration, said in the group's press release announcing the suit. "This is exactly why the lease includes a term specifically prohibiting elected officials from owning a stake in its profits. The only art to this deal is the whitewashed conflict of interest of the president finding yet another way to turn the presidency into a money-making opportunity."
The group noted in its Wednesday release that the hotel is located in Washington's Old Post Office building, which is leased to the private-sector Trump Organization by the GSA.
"The terms of Trump's lease with the GSA specify that no elected official may profit from the hotel," American Oversight said. "Nevertheless, the GSA – whose acting administrator was appointed by Trump – ruled on March 23, 2017 that the president's ownership of the hotel did not violate the lease."
Trump had visited his own for-profit properties 37 times as president as of last week. Ethics experts told the Associated Press that such appearances "double as a form of advertising that inappropriately enriches him."
The White House did not immediately respond to a request for comment, but groups critical of Trump said they planned to protest outside the hotel Wednesday evening.
Prior to taking office, Trump announced he would cede control of his business empire to his adult sons, Donald Jr. and Eric.
His eldest daughter, Ivanka, is a member of the administration, while his second daughter, Tiffany, is headed to law school in the fall. The president's youngest child, Barron, just moved to the White House after completing the school year in New York.
June 28, 2017 1:07 p.m.: This story has been updated.