'America's Got Talent' contestant Johnny Manuel absolutely dominates Whitney Houston ballad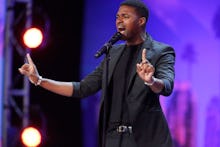 Johnny Manuel blew away the judges and the crowd when he positively nailed Whitney Houston's classic ballad "I Have Nothing" on America's Got Talent Tuesday.
The Flint, Michigan, native seemed to channel Houston from the very first verse, as he seamlessly slipped between falsetto and belting. But as soon as he hit the first power note of the chorus, the crowd had lost it. Manuel's powerful voice even had Tyra Banks shouting "Whitney hears you, honey!" Sure enough, the entire auditorium was on its feet by the end of the song.
Manuel easily sailed through to the next round, but he told judges he hadn't always found success with singing.
"As a kid, I thought I was going to take off and see the stars, and obviously it didn't happen that way," he said. (Cue audience: "Awwwww.")
Manuel signed to a record label in his teens and even opened for *NSYNC and Jessica Simpson during their early heydays, but found himself back in Flint as an adult. While he has continued to find success there, Manuel, now in his 30s, told the judges:
"I hope what can happen is I'm finally able to be who I am and present myself and my music to the world."
Manuel's Twitter following has increased overnight, and he's already acquired some passionate fans over on YouTube. Check out his audition, and some public love from judge Howie Mandel, below.
Mic has ongoing coverage of America's Got Talent. Please follow our main America's Got Talent hub here.