Man spends five months on Rikers Island without knowing his bail was $2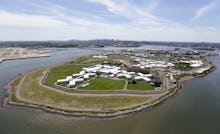 Aitabdel Salem, 42, spent five months at Rikers Island before being informed that his bail was only $2 and he could have left as early as four months prior, the New York Daily News reported. Now he is filing a lawsuit against both the city and his Legal Aid lawyers.
On Nov. 21, 2014, police arrested Salem for allegedly attacking an officer who said he was stealing a coat. He was also placed under arrest for prior tampering and mischief charges. The judge originally set his bail for both cases at $25,000 but dropped the initial case to a dollar on Nov. 26, his court date. The judge also ordered him to be set free on Nov. 28. His legal aides, however, failed to produce him in court leaving Salem unaware of the change.
"Mr. Salem implored corrections officers within [Rikers Island] to tell him what happened on his respective court dates," the lawsuit alleges. "None of the corrections officers told him that he was ordered to be free on Nov. 28, 2014."
The second case for which he was serving time went to court a few months later on Feb. 11. After prosecutors were unable to make an indictment in the required amount of time, the charges were dropped and the judge reduced bail to a dollar. Again, Salem failed to be produced and was unaware that now instead of $25,000 he only owed $2.
A prison chaplain finally paid the bail on April 15, 2015, and Salem was set free. The following month however, he was arrested again for failing to appear at the arraignment for his original assault charge.
His lawyers claim Salem was again unaware of any court date or changes, saying the letter informing him of the date was lost in the mail and stamped as "return to sender."
"You can't do what you don't know and if you're a defendant in a criminal case you certainly have a right to rely upon the system [to know] what your next court date is," Glenn Hardy, one of his new attorneys, said.
Salem is now serving 4 1/3 to five years in state prison for felony assault and criminal tampering charges. According to the Centre Daily Times, his bail is now set at $30,000.