'Baby Driver' reviews: Critics are in love with Edgar Wright's latest high-octane film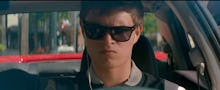 Let's face it: For many, this probably hasn't been the greatest year in history. But fortunately, for film fans at least, 2017 has already delivered some cinematic gems. Get Out is being looked at as an early Oscars contender, Beauty and the Beast raked in over $1.25 billion worldwide, and Wonder Woman and Logan are being hailed as two of the greatest superhero movies in years.
The best part is 2017 still has plenty of time for more hits. Now playing is Edgar Wright's latest film, Baby Driver, which is getting some of the best reviews of the acclaimed director's career.
Currently sitting pretty with a 98% certified fresh score on Rotten Tomatoes, Baby Driver is Wright's first film as a director since he concluded the Cornetto Trilogy with The World's End, a series that also includes Shaun of the Dead and Hot Fuzz. It's also his first film since he left Ant-Man over creative differences with Marvel. And while Ant-Man turned out to be an enjoyable and humorous comic book movie, the reviews for Baby Driver are yet another reminder of what could have been.
Baby Driver is receiving praise for its high-octane car chase sequences, fun action scenes and well-chosen soundtrack, which plays an extremely important role in the narrative. Particular attention is being paid to Ansel Elgort, who plays the film's main character, getaway driver Baby.
As if audiences needed an additional push to go see Wright's latest film, here are some of the movie's shining reviews — not all of them, because this article would go on for far too long — with a few clips sprinkled in for enjoyment.
A.A. Dowd, AV Club:
Like Baby, Wright just wants to feel the music. He makes us feel it, too, one spectacular pleasure high after another.
Devan Coggan, Entertainment Weekly:
Baby Driver is a candy-colored action movie opera, where the music doesn't just accompany the action — it fuels it. With Wright in the driver's seat, your standard getaway driver story is transformed into a giddy, adrenaline-filled joyride that'll leave you gripping the edge of your seat and tapping your feet.
Eric Kohn, IndieWire:
The director's most ambitious work to date is a wildly successful romantic heist comedy, propelled from scene to scene with a lively soundtrack that elevates its slick chase scenes into a realm that develops its own satisfying beat.
Jada Yuan, Vulture:
Nothing can prepare you for the 112-minute adrenaline rush that is Baby Driver, a heist extravaganza that plays out like blasting your coolest friend's record collection in your car at 100 mph on the Atlanta freeway while cops close in on all sides — essentially what happens in the movie again and again, to always-riveting effect.
Lindsey Bahr, Associated Press:
Director and writer Edgar Wright crafts a slick, stylish and wholly original action epic with Baby Driver, which is both as good as anything you're bound to see in theaters this summer and a bit of a drop-off from the incredibly high bar that Wright has proven himself capable of hitting.
Justin Chang, Los Angeles Times:
Baby Driver is a lavishly souped-up gimmick movie, and I don't mean that as a knock. The gimmick here is so good that I actually wanted more of it: more killer tracks, more death-defying car-eography, more chase scenes shot to look like renegade Uber commercials.
Brian Tallerico, Roger Ebert:
There's an energy that you can feel in the theater when a movie is really working. It's the guy next to you jumping a bit in his seat as a car takes a hard corner. It's the woman behind you laughing extra hard at a joke. It's the sense that everyone is fully engaged, almost tapping their feet to the rhythm of the film.
Even though Baby Driver is looking like an early contender for perhaps more than a few top 10 lists, it hasn't escaped a few negative reviews.
Adam Graham, Detroit News:
It's a movie-geek, fast-car, vroom-vroom fantasy come to life. But in the end, that's all it is: a movie mixtape of screeching tires and hot sounds. And by the end, it skids off the road and crashes into a ditch.
Anthony Lane, New Yorker:
The regrettable truth is that Baby's a dull boy.
Even the negative reviews are not outrageously critical, and for the most part, Baby Driver sounds like a crowd-pleaser for any fan of action, comedy or simply a sick soundtrack.
Baby Driver is now playing in theaters nationwide.
Mic has ongoing coverage of movie reviews. Please follow our main movie reviews hub here.