Where did that stereotype between Birkenstocks and lesbians really come from?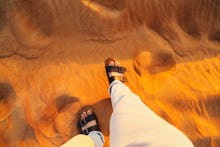 There are clothes that exist in our universe that have come, at one time or another, with a coded message. Red lipstick was once strictly for prostitutes. Hankies were once popular identifiers for gay men and their sexual preferences. And at one time, people thought that if you saw a thick, sand-colored cork and suede Birkenstock sandal, chances were high that the woman wearing them was a lesbian.
That wasn't always the case. The history of the Birkenstock starts all the way before the Declaration of Independence was even signed, back in 1774 Germany. There, Johann Adam Birkenstock was a well-known cobbler and began a business that ended up capitalizing on extremely comfortable and durable footbed insoles. In 1966, Birkenstock sandals were officially introduced in the United States, with the company embracing environmentally-friendly options and eventually settling a U.S. headquarters in California.
The lesbian stereotype had something of a cultural moment in the early '90s. In a 1992 issue of the New York Times, Michael Kaminer, a spokesperson for Out magazine, highlighted this stereotype noting: "Some people think that lesbian women wear only jeans and Birkenstocks." In a 1992 New York Times profile of k.d. lang, the writer called out what they coined as the "Birkenstock crowd." Rather cruelly, a 1996 issue of the Los Angeles Times referred to them as "a foot man's cold shower." And in a 2004 episode of Will & Grace, as Will is trying to convince his boyfriend's sister not to come out on Christmas Day, Jack chimes: "Will, don't be so insensitive. Put yourself in her Birkenstocks."
For years, the stereotype was that the thick and chunky slide-on sandal was beloved by lesbians across the globe. Now though, that's definitely not the case. Today, Birkenstocks can be worn by anyone, without anyone thinking anything about that person's sexuality. The high-end fashion industry is even a fan. All this naturally got Mic thinking. How did this stereotype between lesbians and Birkenstocks begin and also, how did it virtually disappear?
Humorist and author Kate Clinton has some ideas. In her case, she first encountered the stereotype (which she said she believes was pretty accurate) back in 1979, at a women's writing conference. "I go, and it's amazing. Adrienne Rich came and talked; Audre Lorde," Clinton said in an interview. "All I had was like Liz Claiborne outfits and I had these converse sneakers. It was my comfortable shoe. And there they were. It was all flannel. It was women from communes. It was Birkenstocks. That's where I first ran into Birkenstocks. And they thought I was a spy!"
Years later, she went to a lesbian commune in Syracuse, New York, and was faced with a similar sight. "Everybody had them," she said.
So all the way back in the '70s and the '80s, the Birkenstock was already gathering its fan base. But how did these comfy, environmentally-friendly sandals get to become a lesbian signature? Clinton seems to think that it came by way of the women's movement.
"It feels like they're from the early women's movement and the lesbian militias that would pop up, which really came from the peace movement too," Clinton said. "You know, the women's movement radicalized women and suddenly, some women were looking for things like comfortable shoes, rather than heels or whatever. There was a certain amount of lesbian pride in being in comfortable clothes. Women really found confidence in our own comfort."
So maybe it really was about comfort and durability. There's also something to be said about a shoe that is so obviously not catering to the male gaze, yet is proudly worn by women. That's what comedian Erin Markey, who first encountered Birkenstocks in the early '00s, said may have played a factor in the attraction.
"It's such a utilitarian, free-spirited kind of shoe," Markey said. "The open toes. A business dude is not going to do that. And sandals, in the '70s and '80s, the people who have the permission to wear open-toed shoes are historically women but on a level that's not about pleasing the male gaze, that's going to be a dyke."
For Clinton though, she thinks the attraction could have had to do with yet another lesbian stereotype, with women trying to reclaim a supposed insult.
"What I always felt was so cool about the lesbians is that they took every insult as a kind of compliment," Clinton said. "'You ball busting lesbians' they'd say, and we were like, 'OK, we'll bust them!' It was like reclaiming your insult that was thrown at you, and you then took it as a badge of pride. So they tell us we like comfortable clothes over stuffy, pretty clothes and we try on these shoes and say, hey, they're pretty great."
Indeed they are to many. They're practical, easy to wear, high-quality and utilitarian, all reasons that could have impacted Birkenstock naturally flowing into mainstream fashion, and high-fashion as well.
In 1992 Marc Jacobs notably used Birkenstocks in his grunge collection for Perry Ellis. Embraced by the grunge-loving set — along with flannel, of course — they started to become a symbol of counterculture, rather than a symbol of a certain sexuality, but still the stereotype remained, as exhibited by that Will & Grace joke.
Designers like Michael Kors and Céline embraced the Birkenstock-style sandal on the runways years later, trying to add their own glitz to a thick, strappy sandal.
But now, it's extremely mainstream, with the shoes being sold at Urban Outfitters. A reason for that could be that at its very core, Birkenstocks are entirely genderless, and genderless fashion is pretty hot right now.
"I think that femininity is having a real makeover right now," Markey said. "And that utility is more of a value than it used to be. We're moving into a world where things are less gendered, and the Birkenstock is really the epitome of that."
So maybe our increasingly progressive views of gender and sexuality is what signaled the Birkenstock to make a roaring, fashion-forward comeback, or maybe it was the '90s revival in fashion for years now. It could have been all of those things or none of those things, but in any case, on June 24, Birkenstock held its first-ever fashion show — and it was in Paris, to boot.
Yes, models walked down the runway in honest-to-god Birkenstock sandals, showing the Parisian audience the very shoes they might have written off 25 years ago. Further, it seemed to have shed any lasting memory of a direct association specifically with lesbians, instead being positioned as a more high-end sandal intended to be worn by a more elevated consumer — lesbian, straight or otherwise.
"We are not going into the arena with the big fashion brands," Birkenstock CEO Olivier Reichert told Vogue. "We are just trying to open a space for the people to relax and have a drink. We want to join the family, let them check our new collection. But we are not on the way to push the fashion more — we are okay where we are."
As with most human beings, Birkenstock is just trying to be true to itself.