Bill Cosby to appear in court for alleged 1974 assault of 15-year-old girl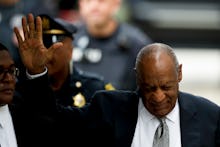 On the heels of a mistrial in his case against Andrea Constand, Bill Cosby will be back in court in July 2018 for another sexual assault case — this time for allegedly assaulting a teenage girl in 1974.
According to CBS News, the trial is the result of a civil suit the alleged victim, Judy Huth, brought against Cosby in 2014. In the suit, Huth alleges Cosby forced her to perform oral sex on him at the Playboy Mansion when she was just 15 years old.
The new trial is just the tip of the iceberg for Cosby, who is facing lawsuits from 10 different women. Huth is one of three women with defamation or sexual battery suits against Cosby in California, while seven more women in Massachusetts have their own pending defamation suits against him.
These legal battles are, of course, in addition to the possible retrial Cosby faces for allegedly drugging and raping Constand.
Amid legal recourse from just a fraction of Cosby's 60 accusers, his publicity team is on a mission to restore the disgraced comedian's image.
Publicist Andrew Wyatt announced during a June interview with a Fox News affiliate that Cosby would be doing a speaking tour to spread the word about the potential dangers of "drinking and partying," leading many to believe Cosby would be more or less teaching a 101 class on how not to get accused of sexual assault.
"We'll talk to young people, because this is bigger than Bill Cosby," Wyatt said in the interview, according to Entertainment Weekly. "You know, this issue can affect any young person, especially young athletes of today, and they need to know what they're facing when they're hanging out and partying, when they're doing certain things that they shouldn't be doing. And it also affects married men."
But Wyatt changed his tune in a Sunday segment on CNN, blaming the media for perpetuating a false narrative.
"It's about the restoration of legacy," he told CNN. "It has nothing to do with sexual assault; I think the media took it upon themselves to turn it into a sexual assault conversation."
Whatever the content of Cosby's tour, one thing's for sure: If it happens, Gloria Allred, the famous feminist lawyer representing multiple Cosby accusers, will be in the audience.
"All I can say is, Mr. Cosby, be careful what you wish for, because if you go on that tour, I will be there," Allred said.