Best apps to save money: 5 free or cheap grocery shopping tools for saving cash — and time!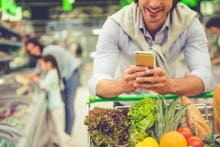 Want to save money on groceries and save time, too, by not having to head to the store every time you need bread or lemons? If you're ready to hack stocking up your cupboards to get lower prices or better convenience, mobile phone apps can be super helpful — but only if you actually use them.
"All too often people start out with great expectations of savings but then, interest wains and they stop," Tracie Fobes, author of the blog Penny Pinchin' Mom, said in an interview. "But as long as you use them consistently, they really can be beneficial in helping you save."
The key to consistent use is to find the right app for you out of the countless ones available, which actually allow you to get the lowest prices — or to get groceries delivered to your door. Here are the best five to try out, based on experience and expert opinions.
1. iBotta
No time to clip coupons? No problem. With the rebate app iBotta, you just buy what you want and wait for discounts to be applied to your iBotta account. Then transfer the balance to Paypal, Venmo or a gift card.
While iBotta used to require you to scan your receipt to get a rebate on items you purchase, you can now link store loyalty cards to the app or scan QR codes at checkout so saving is more streamlined. You can also earn rebates on a wide variety of different items purchased at more than 340 stores, including Food Lion, Walmart, Publix and Kroger, and you get cash back in your account in as little as 48 hours after making a qualifying purchase.
2. Basket
Another alternative to shopping based on advertised deals is to simply make a shopping list and upload it to an app called Basket. This app lets you find out which store will give you the most total savings on every item you're purchasing. This can save you from driving from store to store to get the best deals on individual items, which wastes time and gas money.
Basket crowdsourced the effort to build a database of grocery store prices, awarding points for taking pictures at stores that could be traded for cash back, CNN reports. Now, by using its database, users can find the best place to go for every shopping trip. "We're talking thousands of dollars a year simply using our free app," Andy Ellwood, co-founder of Basket, told WCPO.
3. Favado
While Basket allows you to create your list first and then find the cheapest prices on the items you've already decided to buy, Favado works best if you build your shopping list around what's on sale. It works by aggregating the best deals on food and other products on sale at more than 65,000 different grocery and drug stores.
Check out the best deals in your local area by signing into the app, then add the items you want to buy to your shopping list. Right now, for example, Favado's deals include chicken breasts on sale for $1.88 per pound at Sam's Club and baby organic spinach on sale for $3.79 at Costco. You can print coupons for on-sale items directly from your computer.
"The average shopper can save 30% by purchasing products that are listed on sale within the app, along with the other items needed," according to the Favado FAQ. "Super Saver Shoppers can save up to 70% by using coupons every week combined with sale prices, as well as additional store promotions and offers."
4. Amazon
You may be thinking that the Amazon app isn't a grocery app — but it actually can be a useful food-shopping tool if you use Amazon Prime Now or AmazonFresh. Both allow you to have groceries delivered to your door instead of going to the store. The catch? You need to be a Prime member to use both.
Prime Now costs $7.99 for one-hour delivery or free two-hour delivery for a purchase of $20 or more — although you should tip the delivery driver. With more than 25,000 items to choose from, including electronics, groceries and gifts, it's currently available in about 30 cities.
AmazonFresh has a bigger selection than Prime Now — you can choose from 500,000 items — and will either deliver your groceries the same day or the next morning. It costs $14.99 monthly (on top of your $99 annual Prime membership), but you can get unlimited deliveries at no extra charge as long as each order adds up to $40. For now, it's only available in certain areas, including parts of California, New York City and Philadelphia.
Not a Prime member? The grocery app Instacart lets you shop from a wider range of stores, while Fresh Direct has a special focus on freshness. You could save on delivery using the other services since Fresh Direct charges just $6 per delivery and your first Instacart delivery is free, then $6 for subsequent orders.
6. Cartwheel
Target has a great grocery section that offers "snacks that you'll always want to keep stocked at your desk, a surprising range of inexpensive organic options and even exclusive Ben and Jerry's flavors," Refinery 29 notes. And, you can often get awesome deals.
But, if you want to maximize your savings on groceries and other items you buy at Target, you'll need an app. "If you shop at Target, you need to use the Cartwheel app to find offers on the items you are buying," Fobes of Penny Pinchin' Mom said. "The app is scanned at checkout and it is instant savings."
Discounts available through this app range from 5% to 50% off items in every department so your savings can extend beyond just your grocery buys. Before you hit up Target next time, install the free app on your Android or iPhone so you won't miss out on coupons and special offers.
Sign up for the Payoff — your weekly crash course on how to live your best financial life. Additionally, for all your burning money questions, check out Mic's credit, savings, career, investing and health care hubs for more information — that pays off.