'Assassin's Creed Origins' Gameplay: Assassination targets have daily schedules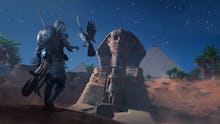 After months of rumors and leaks, we finally got to see Assassin's Creed Origins at E3 2017. In spite of the notion that it would seriously shake things up, as the series disrupted its typical yearly release schedule with a year off in 2016, it essentially looked like another (potentially still good) Assassin's Creed game.
However, according to Kotaku, one part of the game's mission design that wasn't readily apparent in the E3 demo could be the change we're looking for.
Assassin's Creed Origins: NPCs up for assassination have daily schedules
As you can see in the demo embedded above, Origins looks like a fairly typical Assassin's Creed game. There are some new bells and whistles, such as a re-tooled combat system and loot, but the core of the action is similar: Sneak around a compound and kill whomever you need to kill.
Kotaku dug deeper at E3 and found out that NPCs have daily schedules in this world. Think Majora's Mask, but on a larger scale. When you have a target, you'll have to discern what they do on a daily basis in order to find the best time to strike. You can apparently skip from day to night with the press of a button, which emphasizes the importance of the day/night cycle.
The very first Assassin's Creed had you stalk your targets to find information about them, a process that became sort of tedious and was quickly dropped from the following games. This almost sounds like a return to that formula but with a lot more nuance.
More gaming news and updates
Check out the latest from Mic, like this essay about the sinister, subtle evils lurking in rural America that Far Cry 5 shouldn't ignore. Also, be sure to read our review of Tekken 7, an article about D.Va's influence on one Overwatch player's ideas about femininity and an analysis of gaming's racist habit of darkening villains' skin tones.