What Melania Trump wore her 23rd week as first lady — a rather colorful week indeed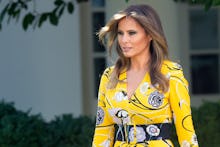 It's been a colorful week for Melania Trump — in more ways than one.
It's been colorful in the sense that although Trump championed an anti-cyberbullying platform on the campaign trail, her husband continues to cause controversy by grossly and publicly picking on a female TV cohost and her alleged plastic surgery on Twitter. It's also been colorful in the sense that this week, Trump never once wore white, black or beige, typically her favorite colors.
This is what Trump wore this week:
Saturday, June 24: A light-pink gown for a wedding
For the summer wedding of U.S. Treasury Secretary Steven Mnuchin, Trump opted for a light-pink chiffon gown with a pleated overlay by French designer Gilles Mendel. She wore pink Manolo Blahnik shoes, too.
Monday, June 26: A bright-yellow number for meeting the Indian prime minister
Always nice to get a little color, isn't it? To meet Indian Prime Minister Narendra Modi, Trump wore a bright-yellow dress with a black-and-white floral design by Emilio Pucci.
As with most of her outfits, she added a belt to the ensemble, giving the look a bit of a military-inspired touch — yet another of Trump's signature style choices.
Wednesday, June 28: A hot-pink lace dress for a RNC fundraiser
This is a dress that defeats almost all our assumptions about how Trump presents herself. For a Republican National Committee fundraiser on Thursday, — to which the press was not invited — Trump wore a hot-pink lace dress, rumored to be by American designer Adam Lippes.
There's no belt to be seen for this one, although Trump does love a lace moment.
Thursday, June 29: A blush Roland Mouret for meeting South Korea's president and first lady
Here's Trump back in one of her typical outfits. For meeting the South Korean president and first lady, Trump wore a blush Roland Mouret sculptural peplum dress, with her favorite thing in a world: a defined waist.
We saw Trump take some risks this week, from that hot-pink dress to that bright-yellow dress. She even embraced patterns. With her presence in the White House becoming increasingly defined and visible, it'll be interesting to see if she's able to influence any trends in fashion as a whole.
You can see previous recaps of what Melania Trump wore here.