Patreon investigated YouTuber "Sargon of Akkad" over Anita Sarkeesian VidCon harassment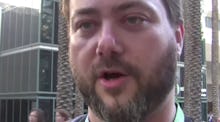 Patreon, the popular online crowdfunding platform, investigated YouTube personality Carl Benjamin — more commonly known as "Sargon of Akkad" — for potentially violating its code of conduct through his behavior at VidCon, a Patreon representative confirmed to Mic.
"Because of what happened at VidCon, it has been on our radar, so we have been looking into it," said Mollie Starr, head of communications at Patreon, at 5 p.m. Eastern on Wednesday.
Two hours later, Patreon followed up in an email to say Benjamin was in the clear.
"While distasteful and definitely not something we agree with, Sargon's content and conduct do not violate our policies," a spokesperson said.
If Patreon's investigation had found that Benjamin violated its code of conduct, it could have shuttered his account entirely. Benjamin stood to lose out on the $5,725 per month he currently makes through his Patreon account.
Wait, who is this Sargon of Akkad guy? What did he do?
If you need a quick catch-up, here's what's going on:
Anita Sarkeesian, a well-known feminist game critic, known for her Tropes vs. Women in Video Games webseries, attended the YouTuber convention VidCon on June 22 as a panelist at a discussion about the lives of women online and the harassment they face.
Benjamin, who regularly makes videos criticizing Sarkeesian and her views, organized a targeted harassment campaign in which he and his friends occupied the first three rows at the panel under the guise of attempting to "engage" with her, though it's clear their presence was simply meant to intimidate Sarkeesian and disrupt the panel. (You can read more details on what happened at Polygon.)
VidCon denounced Benjamin's behavior at the panel as well, saying that regardless of his intentions, "it looked like intentional intimidation to most people in attendance." Furthermore, VidCon apologized for "not having been more aware of and active in understanding the situation before the event, which resulted in [Sarkeesian] being subjected to a hostile environment that she had not signed up for."
How does Patreon handle creators who violate its code of conduct?
According to a representative at Patreon, it has a whole "trust and safety team" that it deploys to look into creators who have potentially violated its code of conduct, which states that "any creator caught in the act or convicted of making credible violent threats, committing violent crimes, malicious doxxing, coordinating nonviolent harm such as fraud or encouraging others to do the aforementioned harmful activities may be banned from using Patreon."
So why isn't Sargon technically violating Patreon's policies?
In an email to Mic, Patreon wrote: "Regarding Sargon of Akkad … he has not posted content to his account since November of 2016. In addition, we have received very few complaints about his page."
Unlike many Patreon users who offer exclusive content in exchange for donations, Benjamin publishes on YouTube and keeps his Patreon clean, essentially using it only to cash in. "If you appreciate my work and would like to reciprocate, $1 a month on Patreon is the best way," he writes on his Patreon page.
"We do not consider attendance at a public event to violate our policies, but we understand the controversial nature of the events at VidCon have more context and we continue to monitor those involved."
Wednesday, June 28, 7:30 p.m.: This story has been updated.
More gaming news and updates
Check out the latest from Mic, like this essay about the sinister, subtle evils lurking in rural America that Far Cry 5 shouldn't ignore. Also, be sure to read our review of Tekken 7, an article about D.Va's influence on one Overwatch player's ideas about femininity and an analysis of gaming's racist habit of darkening villains' skin tones.