Donald Trump claims immigration crackdown is "liberating towns" from gangs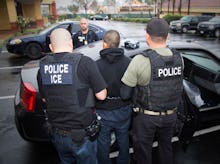 President Donald Trump argued that his crackdowns on undocumented immigration are "liberating towns" from violent gangs in remarks in the White House's Cabinet Room, Politico reported Wednesday.
"We're freeing up towns, actually we're liberating towns, if you believe we have to do that in the United States of America," Trump said, flanked by family members of people killed by undocumented immigrants — one of the president's now-routine tactics to build support for his hardline immigration enforcement agenda.
"But we're doing it and we're doing it fast," he added.
Trump also made an appeal to Congress to pass the No Sanctuary for Criminals Act, Politico wrote, his plan to take federal funds away from cities which elect not to cooperate with federal immigration authorities.
"We will cut federal grant money to cities that shield dangerous criminal aliens from being turned over to federal law enforcement," Trump said.
On the campaign trail, Trump promised to deport every single undocumented immigrant in the country, an estimated 8 million people. Trump also opened an Immigration and Customs Enforcement office named VOICE to publicize crimes allegedly committed by undocumented individuals.
Days ago, the Washington Post called two out of four Pinocchios on separate Trump claims members of MS-13, a violent and predominantly Salvadoran drug cartel, were being deported "by the thousands." As the Post noted, Trump's administration has stepped up deportations of gang members to El Salvador, but from fiscal year 2016 to June 4, ICE had only made 602 arrests of MS-13 members, securing just 153 convictions.
Trump's claim also flies in the face of evidence immigration actually lowers crime rates rather than increases them — and to date, the New York Times wrote, Trump's deportation efforts have broadened the rules for deporting undocumented immigrants from all walks of life, not just criminals.