'Rick and Morty' 'Rocket League': Characters get cameos in multiple video games for Season 3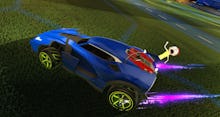 Rick and Morty Season 3 is on the way, and Adult Swim is celebrating by adding them to a whole bunch of video games. The most significant game receiving some Rick and Morty love is Rocket League, but Move or Die, Gang Beasts and Steam VR Home are getting a dose as well.
Rick and Morty Rocket League: Second-anniversary update items
When Rocket League's second-anniversary update hits July 5, players will get to pick up some Rick and Morty customization items. Rick and Morty will come as Antennas; there'll be some sweet interdimensional portal Sanchez DC-137 Wheels, and Cromulon, Mr. Meeseeks and Mr. Poopybutthole toppers. These customization items will all be free, and the Cromulon Topper can even drop as a painted item. Ooh wee!
Rick and Morty Steam VR Home, Move or Die and Gang Beasts cameos
Rick and Morty cameos are also coming to a few more titles. In Steam VR you can chill with Mr. Meeseeks. Move or Die gets Mr. Meeseeks and Bird Person as playable characters. Finally, you'll get the ability to dress as Rick and Morty in Gang Beasts.
All the Rick and Morty additions are available in every game mentioned above except Rocket League right now. Rocket League gets its cameos when the second-anniversary update releases on July 5. An exact release date hasn't been announced for Rick and Morty Season 3 on Adult Swim yet, but series creator Dan Harmon has assured fans it will be here sometime Summer 2017.
More news from E3 2017
For more from this year's E3, check out the new trailer for Super Mario Odyssey, the latest info on the Spider-Man game for PS4, the new Mario + Rabbids Kingdom Battle game for Nintendo Switch and our hands-on impressions of the new Xbox One X.