White House boots press from ethically questionable Trump International Hotel fundraiser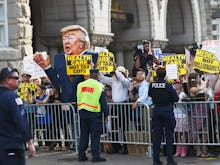 In a highly unusual move, members of the White House press pool were denied entry to President Donald Trump's first re-election fundraiser at his Washington, D.C., hotel on Wednesday.
Members of the pool were "escorted to a separate room in the hotel," where they remained while the event commenced, according to a press pool report. According to Sirius XM P.O.T.U.S. reporter Jared Rizzi, the Republican National Committee said that Trump International Hotel in D.C. could not accommodate the reporting crew — despite the high-profile nature of the event, the building being newly renovated, and a long-standing precedent of press pool members being allowed to escort the president even to fundraisers in private residences.
The hotel is not owned by Trump, but was leased from the General Services Administration before he assumed the presidency. As Trump never actually divested from his businesses, but simply transferred day-to-day management to his adult sons Eric Trump and Donald Trump Jr., the arrangement appeared like a clear conflict of interest — and the president had already reportedly reneged on the terms of the lease.
According to CNN, the decision to corral the press pool into a different room came after White House officials had said they would allow them to attend. CNN noted prior presidents like Barack Obama would occasionally hold closed-press fundraisers, but usually in much more intimate settings.
The incident marked yet another escalation in the Trump administration's furious war of words with the national media. Trump and his staff have repeatedly accused the press of lying and generating "fake news" about his presidency, and in recent days the White House even began denying reporters the details of Trump's schedule.
Persons attending the event were asked to pitch in at least $35,000 per head, according to Newsweek, which would be split between Trump's re-election campaign and the RNC.
The event had already drawn the eyes of ethics watchdogs, who said it was unusual for Trump to throw a fundraiser at his own venue. Most politicians avoid even the impression of self-dealing, i.e. that a fundraiser could be channeling campaign funds into a candidates' personal coffers.
"The appearance is not great," former chief White House ethics lawyer Richard Painter said in a phone interview. "... I would advise against it, but it's legal."
On Twitter, Painter sniped at above-market rates at the hotel this week, suggesting they could act as a back-door for foreigners to influence Trump with legally murky payments.
Celeste Katz contributed additional reporting to this article.