'Hot Mic' podcast: Sterling family lawsuit, Low approval for GOP health care, Trump hotel sued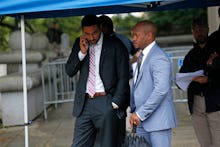 Listen and subscribe to the Hot Mic podcast from your mobile device:
Here are the important stories to get you caught up for Thursday, June 29:
1. The children of Alton Sterling, a black man fatally shot by a Baton Rouge police officer last year, are suing the city, the police department, and the officer.
2. A new poll found that just 17% of adults approve of the health care plan proposed by Senate Republicans.
3. An ethics group sued Trump International Hotel for the release of records before Wednesday night's fundraising dinner.
Direct from Mic's newsroom, Hot Mic keeps listeners informed with a daily run-down of top stories, breaking news and analysis from our news team.