Trump administration clarifies visa requirements for applicants from nations targeted by travel ban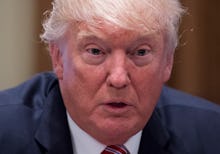 On Wednesday evening, days after the Supreme Court announced it would reinstate a partial version of President Donald Trump's controversial travel ban ahead of a formal hearing in the fall, the White House issued new guidelines to U.S. embassies and consulates clarifying what its criteria for nationals from the six Muslim-majority nations targeted by the ban would be, according to the Associated Press.
In its announcement to issue a partial stay on the lower court ruling that froze Trump's so-called "Muslim ban," the Supreme Court said it would require travelers from those nations to prove a "bona fide relationship with a person or entity in the United States." According to the new guidelines issued Wednesday, those bona fide relationships would need to be with "a parent, spouse, child, adult son or daughter, son-in-law, daughter-in-law or sibling" currently residing in the United States, according to the AP.
Close relationships with "grandparents, grandchildren, aunts, uncles, nieces, nephews, cousins, brothers-laws and sisters-in-law, fiancées or other extended family members" will not be considered for visas.
David Lapan, a spokesperson for the Department of Homeland Security, told Business Insider that the controversial ban, which sparked a weekend of massive protests that saw hundreds of demonstrators storm New York's John F. Kennedy International Airport in January, would go into effect Thursday, three days after the Supreme Court lifted a stay on the injunctions against it.
"We expect implementation to begin [Thursday] and we'll release additional information then," David Lapan, a spokesperson for the DHS, told BI.
One of the injunctions against the ban on nationals from Libya, Syria, Iran, Sudan, Yemen and Somalia criticized the order as "[dripping] with religious intolerance, animus and discrimination." It was issued by the 4th Circuit Court of Appeals in Richmond, Virginia.
CNN said the ban would go into effect Thursday evening at 8 p.m. ET.