Top Pope aide charged with sexual assault vows to fight his "relentless character assassination"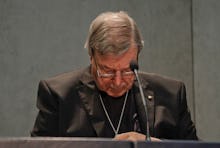 On Wednesday evening, Australian police brought multiple charges of sexual assault against 76-year old Cardinal George Pell, who serves in the Vatican as one of Pope Francis' top aides.
Cardinal Pell announced Thursday he would take a formal leave of absence as financial czar for the Holy See while giving a clear-throated condemnation of the charges against him.
There's been "relentless character assassination," Cardinal Pell said to press Thursday. "I am innocent of these charges. They are false. the whole idea of sexual abuse is abhorrent to me."
The multiple charges of sexual assault levied against Cardinal Pell make him the highest ranking official to become ensnared in the Catholic Church's sexual abuse scandal, according to the Associated Press.
Speaking on behalf of law enforcement, Victoria State Police Deputy Commissioner Shane Patton would not give any specifics about the "multiple complainants" against Pell, but did confirm that police had summoned the cardinal to appear in court to face "multiple counts of 'historic sexual assault offenses,'" the AP reported.
The cardinal's leave of absence from his post at the Vatican will take place immediately. The Cardinal said that he plans to return eventually.