The 'Handmaid's Tale'-inspired protests are now a movement unto themselves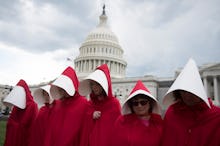 Heather Busby, the executive director of NARAL Pro-Choice Texas, was attending March's South by Southwest conference when she spotted something creepy: a group of silent women clad in red, hooded robes and white bonnets.
Hulu had hired the women to reenact the world of Margaret Atwood's feminist dystopian novel The Handmaid's Tale as promotion for its television adaption, which premiered in April.
Busby, though, was inspired to do more than watch the series. When she got to her computer later that day, she floated an idea on Facebook — what if those handmaids descended on the Texas capital?
Her NARAL colleagues and activist friends immediately commented on the post, discussing what it would look like if they turned the imagery of Hulu's marketing stunt into a Handmaid's Tale-inspired protest against lawmakers restricting women's rights.
When Busby's colleague found red capes with hoods at a local costume shop, it sealed the deal: NARAL volunteers would hold a silent protest on March 20 in the Texas Senate during a reading of Senate Bill 415, a piece of legislation that would ban a common second-trimester abortion procedure.
News of the protest went viral, and calls and emails began flooding the organization from people who wanted to know how they could coordinate their own Handmaid's Tale protest elsewhere. Since the Texas protest, there have been at least a dozen other Atwood-inspired demonstrations, almost all of which have been coordinated with the help of NARAL, Planned Parenthood or Action Together.
In an interview on Wednesday, Busby said that, after March's protest, NARAL Pro-Choice Texas volunteers began sewing their own red robes based on patterns they've since shared with activists across the country.
"They're taking a break now, but they want to keep going," she said.
Busby's organization now owns 33 of the iconic robes, which she and her colleagues supply to volunteers who want to participate in their themed protests. Anyone who wants to make their own handmaid's costume can find the sewing patterns in a private Facebook group called Handmaids Unite-Texas. The page is associated with the Handmaid Coalition, an organization Action Together's New Hampshire Executive Director Emily Morgan launched in April.
Morgan said she was inspired by Busby's organizing, and thought a Handmaid's Tale-inspired demonstration in New Hampshire's capital would be a perfect way to protest Robert Fisher, the state representative who created the men's rights activist subreddit the Red Pill. (Fisher resigned in May.) Morgan's New Hampshire team initially discussed having just "one or two" handmaid protests, until Action Together chapters in Massachusetts and Connecticut expressed interest in the having their own demonstrations.
Morgan's next project? Launching a Handmaid Coalition in every state.
"The swelling belief in our cause is both encouraging and humbling," Morgan emailed in a statement. "I never could have imagined the response we are receiving now, but in seeing the outpouring of support, I am confident that the future of both our organization and our government are more than a bit brighter than recent events would lead one to believe."
If anything, Morgan's new coalition proves the handmaids aren't going anywhere anytime soon.
Just Tuesday, around 30 Planned Parenthood volunteers dressed as handmaids staged a demonstration at the U.S. Capitol in protest of the Senate health care bill. Among them was 21-year-old Elena Lipsiea, who was invited to protest by her local Planned Parenthood chapter in upstate New York.
"People like to think that the dystopia Atwood wrote about couldn't occur," Lipsiea said in an interview on Thursday. "It might feel far off, but we're seeing an infringement on our rights every day, so we're going to make a drastic statement."
Busby, in Texas, said that people sometimes have a hard time making the connection between women's historical oppression and the state of women's rights today. But, with an administration bent on shuttering abortion clinics and overturning Roe v. Wade, a future in which women's bodies are, once again, considered the property of the state doesn't seem too outlandish.
"Since the election, The Handmaid's Tale as a body of work has really been resonating with people, especially among white women who maybe weren't attuned to the reproductive oppression women of color have experienced" Busby said.
The Handmaid's Tale protests, Busby added, drive the activists' point about women's reproductive freedoms home in a more visceral way than the normal signs-and-chants actions.
"You know exactly what the point is when you see handmaids protesting abortion restrictions," she explained. "They don't have to say anything to make their point."