Hannibal Burress completely owned the 'Spiderman: Homecoming' red carpet and he didn't even go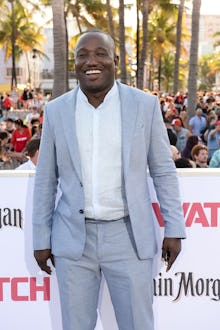 Imagine being able to send a body double to an event that you can't go to. Even with this luxury, carrying out this kind of stunt requires a certain level of finesse and boldness. Comedian and actor Hannibal Burress had no shame in doing so when he sent a doppelgänger to Wednesday's Spider-Man: Homecoming world premiere in Los Angeles.
Burress plays Coach Wilson in the film, which opens nationwide on July 7 — not July 8 as he tweeted above. Burress reportedly couldn't attend the premiere and since he had a major case of FOMO — fear of missing out — he issued a call via Twitter on Wednesday for a look-alike with his comedic likeness. Those who wanted in had to send him photos, via email. The lucky man would receive $500. Those tweets were eventually deleted, Entertainment Weekly reported.
A man named Joe Carroll, who lists author, screenwriter, producer, director, and actor in his Instagram bio, was the chosen person to do the job. And it looks like he soaked in all the shine and excitement from the experience, based on the selfies he took. He even did an interview as Burress. It's not clear if the correspondent knew Carroll was just a stand-in for Burress or not, only adding to the hilarity.
"It was a lot of fun," the Burress' double said on acting in the film. "Spiderman's huge. You know, we grow up watching Spiderman. So to play Coach Wilson — working with the cast. It was a great time, I had a blast."
Burress may have started something new here. Until cloning becomes a normal option, this will have to do.
Mic has ongoing arts coverage. Please follow our main arts hub here.