Jay-Z's '4:44' is here: Streaming options for the new album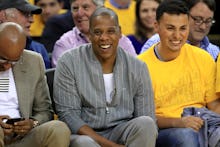 Jay-Z is back with his brand new album 4:44.
Earlier in June, Jay-Z began teasing the project with 4:44 posters appearing in select cities and on the internet.. An ad for the 4:44 project first aired during the NBA Finals and fans began questioning exactly what it was. Not long after, it was confirmed that a new Jay-Z album was on the way. After surprising fans with the announcement of a brand new album, Jay-Z's 4:44 has finally dropped.
In true Jay-Z fashion, fans looking to stream his newest offering can head to Tidal. The album will also be available to stream for Sprint customers because of the $200 million the company paid for a 33% piece in Jay-Z's streaming service. Those are the only legal streaming options for the album as of now.
Jay-Z has treated fans with several teasers for the album. On Tuesday, the rapper dropped a teaser titled "Kill Jay-Z." In it, a young man is running with a shirt that says "Stay black" on it.
On Wednesday, another teaser for the album, "MaNyfaCedGod," was released. The clip stars a tearful Lupita Nyong'o vividly expressing her emotion while a beat plays overtop:
4:44 is Jay-Z's first new album since 2013's Magna Carter Holy Grail. It's also Jay-Z's 13th studio album overall, joining the ranks of classics like The Blueprint, Reasonable Doubt and The Black Album.
4:44 is now available to stream and download.
Mic has ongoing music coverage. Please follow our main music hub here.