Donald Trump says journalists are "fake." But the president has told untruths nearly every day.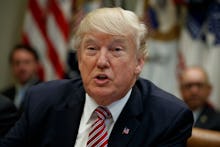 This is Mic's daily read on Donald Trump's America. Welcome to the political newsletter that is waiting with baited breath for the next announcement from McConnell.
Want to receive this as a daily email in your inbox? Subscribe here.
You may have heard the president is attacking the media again. President Donald Trump's series of "fake news" tweets targeting the New York Times and CNN came after the latter news organization retracted a story about a Trump associate and Russia. Throughout the week, Trump and his administration said journalists are openly biased and perpetuating lies. That drew condemnation from reporters at both outlets: "Call your office, sir," Times reporter Glenn Thrush tweeted at the president; CNN's Jim Acosta noted how the White House rarely answers his questions.
This comes as the Trump administration has cut back on-camera press briefings and curtailed media interactions. Fewer surrogates take to the airwaves each day, except on Fox News, to defend the president. The president's team kicked journalists out of the press area on Wednesday night at a fundraiser Trump attended — where he also used CNN as a punchline.
The irony? Trump himself has told dozens of uncorrected falsehoods since taking office. PolitiFact has seven pages of false statements made by Trump, most or all of which the president has not corrected. The Times writes Trump has told a falsehood, or outright lie, nearly every day of his young presidency. BuzzFeed News has a list of high-profile examples from the first few months of Trump's presidency.
Using facts as a metric, who's more "fake?"
Today's question: Who do you trust more: the president or the media? Email us at trumpsamerica@mic.com.
We're seeking your support to expand our coverage of Donald Trump. As little as a $1 a month will give you access to an exclusive group to interact with Mic journalists and grow our reporting. Learn more here.
What we're watching
Today: The president calls the media "fake." But his telling falsehoods has become so common it's easy to forget how unusual it is.
More: Republicans have yet to find the necessary common ground on health care.
Even more: The president's travel ban is expected to be implemented tonight, with some tweaks.
Trump's agenda today: Hosting President Moon Jae-in of South Korea. Speaking at the Unleashing American Energy event.
Where does that health care bill stand?
Good question. No one really knows.
Senate Majority Leader Mitch McConnell has said he wants to submit a revised bill to the Congressional Budget Office by Friday. That means negotiations must be in their final stages on Thursday if Republicans are to reach a deal before they leave Washington for the July 4 recess.
From Capitol Hill, reports say there has been a split between McConnell and Sen. Rob Portman (R-Ohio), a moderate swing vote on the bill's passage, over Medicaid funding. Sen. Rand Paul (R-Ky.), a conservative, issued a list of demands that, if implemented, would totally alienate Republican moderates. Sens. Susan Collins (R-Maine) and Lisa Murkowski (R-Alaska) have proposed an amendment stripping the provision that cuts Planned Parenthood funding.
In sum, this thing is far from settled.
Senators and members of Congress rallied with health care advocates on Wednesday on Capitol Hill. You can watch Mic's video of the march and rally here. In Denver, people with disabilities held a sit-in at Republican Sen. Cory Gardner's office for at least 34 hours.
The president's immigration executive order will go into partial effect tonight
The president's second version of the order has been on hold since it was stayed by a federal court in February. Now, the Supreme Court has ruled that, pending its decision in the fall, the U.S. will legally be allowed to ban travelers from six majority-Muslim countries who do not have "a bona fide relationship with a person or entity in the United States." That means people from Iran, Lybia, Somalia, Sudan, Syria and Yemen with close family in the U.S., acceptance to an American university or other such ties can enter the U.S. Beginning tonight, all others will be barred entry.
The House is expected to vote Thursday on two bills that would crack down on immigrants to the U.S. who commit crimes and "sanctuary cities" that do not deport them.
News and insight you cannot miss:
3 key Republican governors are fighting against GOP health care reform.
German Chancellor Angela Merkel did not mince words in her critique of climate change deniers.
Trump is using a video from a right-wing activist to fundraise.