'Game of Thrones' showrunners confirm they are writing final season, but premiere date is uncertain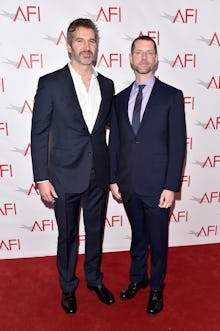 It has been over a year since Game of Thrones aired a new episode, but in a few short weeks the seventh, and penultimate, season of the hit series will premiere on HBO. Season seven will be the show's shortest yet, and the question after it concludes is how long fans will have to wait until Game of Thrones returns for its swan song.
There have been stirrings that the final season may not arrive until 2019, meaning Game of Thrones enthusiasts might want to start preparing for a longer than usual winter off. But if the series indeed does not return until 2019, it will likely be because of the complexity of the production, and not a delay in the creative process.
Game of Thrones' showrunners Dan Weiss and David Benioff recently sat down with Entertainment Weekly to tease the upcoming season, but also revealed that work on the final set of episodes is already well underway.
"[Writing for the final season is] nearly completed," said Benioff. "Well, I shouldn't say 'nearly.'"
"I wouldn't go that far," Weiss chimed in. "It's exciting, but there's always pressure. You don't ever want to drop the ball."
But even with the scripts starting to come together, it still is not clear exactly when Game of Thrones' final season will premiere.
"We honestly don't know yet," Benioff said in response to whether the season would arrive in 2018 or 2019. "There's been a lot of back and forth about air dates. That's a long way off from being settled."
Since Game of Thrones is one of the most highly talked about shows on television, and certainly one that elicits a great deal of speculation and theorizing on social media sites like Reddit, a longer wait for the final season means more time for potential leaks.
Asked whether they would employ any new strategies for preventing leaks, Weiss answered, "We don't even want to tell you because if we do then somebody will figure out how to circumvent the things that we're doing."
"We will do everything we can to keep [leaks] from happening, but some of this is on people who watch the show [to avoid posted spoilers]," said Benioff, who also stated, "even the CIA and NSA are unable to prevent leaks."
Fortunately, Game of Thrones fans can take their mind off final season spoilers and speculation for at least a few weeks, because the seventh season is about to premiere — and it sounds like nobody will want to be distracted during this one.
Game of Thrones returns on July 16 at 9 p.m. Eastern on HBO.
Mic has ongoing coverage of Game of Thrones. Please follow our main Game of Thrones hub here.