Iraqi forces capture mosque where ISIS declared caliphate 3 years ago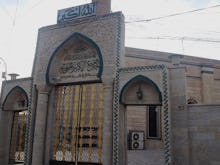 On Thursday, Iraqi forces captured the ruins of al-Nuri Mosque in Mosul, the site where a top Islamic State group leader declared an Islamic "caliphate" about three years ago, Reuters reported. Mosul served as a de facto capital for ISIS, whose flag flew outside the mosque. ISIS blew up the building last week as Iraqi forces encroached upon it.
ISIS leader Abu Bakr al-Baghdadi declared himself "caliph," or ruler of all Muslims, from the mosque's pulpit on July 4, 2014, after ISIS took over large portions of Iraq and Syria.
Iraqi forces consider the capture a huge symbolic victory.
"Their fictitious state has fallen," an Iraqi military spokesman, Brigadier General Yahya Rasool, told state TV, according to Reuters.
ISIS now only operates in a few pockets of the Old City neighborhood in Mosul, Iraq's second-largest city. Last week, the military estimated that 350 ISIS insurgents remain in the neighborhood, though many have been killed since then. Reuters reported that Iraqi Prime Minister Haider al-Abadi has issued instructions to "bring the battle to its conclusion," according to his office.
During the years-long conflict, several thousand civilians have been killed and about 900,000 people have been displaced, about half of the city's pre-war population.
Troops evacuated civilians from the neighborhood surrounding the mosque prior to the "lightning operation" on Thursday. Iraqi counterterrorism troops now control the area surrounding the mosque as well as other neighborhoods and are continuing to gain ground, according to Reuters.
According to Old City residents who have escaped, civilians still in ISIS-occupied territory, an estimated 50,000 people, have little water or food.
Baghdadi is believed to be hiding in the border between Iraq and Syria, according to U.S. and Iraqi military sources, Reuters reported.