Kendall and Kylie Jenner are getting dragged over their new T-shirts, which feature Tupac and Biggie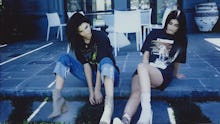 Considering Kendall Jenner and Kylie Jenner's lengthy history with cultural appropriation, you'd think the sisters would know better than to superimpose their faces onto images of legendary rappers Tupac and Biggie. But alas, here we are.
For their latest collection, the sisters launched a line of their own vintage band T-shirts, which feature images of them over common T-shirt designs from Led Zeppelin and Metallica, as well as those rappers.
Here is Kendall Jenner's face over both Biggie's and Tupac's.
Here is Kylie Jenner, wearing cornrows, with her bikini-clad body printed over Tupac's body.
Here is that same Jenner snap over a different image of Tupac because... variety?
Here is a Kendall and Kylie logo printed over Tupac.
And here is a Kendall and Kylie logo over Tupac again.
People are not happy, to say the least. Given the sisters' penchant for being called out for stealing certain aspects of black culture and using it for their own celebrity brands, the idea of printing their white faces and bodies over images of iconic black rappers is leading people to call out the ill-advised designs on the shirt.
Even worse for many people, these T-shirts are going for $125.
On Thursday, Biggie's mother, Voletta Wallace, called out the sisters for disrespecting her son and his legacy.
"The disrespect of these girls to not even reach out to me or anyone connected to the estate baffles me," Wallace wrote on Instagram. "I have no idea why they feel they can exploit the deaths of [Tupac] and my son Christopher to sell a t-shirt. This is disrespectful , disgusting, and exploitation at its worst!!!"
Don't think all this outrage is stopping Kendall and Kylie's customers though. Since dropping on Wednesday, all of the rap T-shirts appear to have sold out, with only T-shirts featuring rock bands left. It seems, despite the storm of backlash, the outlook remains sunny for the Jenner siblings.
June 29, 2:36 p.m.: This post has been updated.