Blue Apron IPO 2017: Stock price, symbol, value, analysis and news about the company going public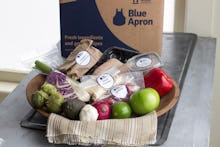 Shares of stock in the meal delivery service Blue Apron began trading publicly on Thursday morning, opening at $10, before rising above $10.50 — then falling back to $10 by market close. The company trades on the New York Stock exchange under the symbol "APRN."
On Wednesday, Blue Apron announced that it would be selling stock for $10 per share, at the low end of the previously expected $10 to $11 range, and far lower than the $15 to $17 range that investors expected before the blockbuster announcement that its indirect competitor Amazon would be acquiring Whole Foods. That placed the company's overall valuation at about $1.9 billion, which is less than the more-than $3 billion implied by that prior estimate.
To promote the initial public offering, the company assembled a garden in front of the New York Stock exchange overnight, reported The Street's Brian Sozzi.
There are a few reasons why the company is trying to manage expectations, but the Amazon acquisition is certainly chief among them. "I think the Blue Apron lower valuation is due to increased concerns about Amazon and Whole Foods," Erik Kim, a venture capitalist, told MarketWatch, adding that both companies compete for urban, affluent customers. "It wouldn't surprise us if Amazon more aggressively entered the market."
The jury's still out on what, exactly, Amazon has planned for Whole Foods, but an expanded food delivery service seems likely, especially given that Amazon has already started experimenting with this business line before through Amazon Fresh. Another concern for investors is that Blue Apron has struggled to retain its customers and has spent heavily to try and keep them coming back. The company spent $66 million on podcast advertising alone in 2016, and several key metrics like the average number of orders per customer have been generally trending down.
On the flip side, Blue Apron has managed to post a profitable quarter, which is impressive given how quickly it has had to grow its workforce: The company grew from a little more than 1,000 employees in 2014 to more than 5,000 in 2017, many of them in fulfillment centers.
Blue Apron will be one of the first of the so-called subscription services to go public, a watershed moment for the industry. Hello Fresh explored going public last year but backed out. Other subscription services like Stitch Fix are also reportedly considering going public as well, but these companies are still generally untested on Wall Street, drawing concerns about how they'd fare in an economic downturn.
When a company goes public, it means that retail investors can easily own shares of the company, but it also means a great deal more transparency: Publicly traded companies are much more carefully scrutinized financially than private ones. Blue Apron is expected to start trading at a slightly higher valuation than most grocery stores — meaning investors are more excited about its growth than retailers like Kroger, and are willing to pay up. That said, Blue Apron also trades at a lower valuation than most e-commerce companies, like Amazon.
Of course, declining valuations aren't necessarily a bad thing if you're looking for an opportunity to buy into the stock for a bargain. One analyst told CNBC Thursday morning that they thought the lower valuation would likely help the company by creating a bit of a discount.
Contrary to popular opinion, buying into a stock at its IPO is not necessarily getting in on the ground floor. By the time the stock starts trading in earnest, most of the $10 shares will have already been bought and sold for a profit by insiders: That's why you should buy stocks only with your "fun" money — after fully funding your savings for higher priorities like emergencies and retirement.
Barclays, Citibank, Goldman Sachs and Morgan Stanley all helped underwrite the IPO, meaning they helped issue the shares to the public.
Generally, investing in an IPO is a pretty risky proposition anyway, even if you weren't concerned about a brand new, Amazon-backed competitor. Unlike blue chip companies, for example a big auto manufacturer like Ford, or a big bank like J.P. Morgan, companies that have recently gone public don't have much of a track record for investors to scrutinize.
Thursday, June 29th, 5:56 p.m.: This story has been updated.
Sign up for The Payoff — your weekly crash course on how to live your best financial life. Additionally, for all your burning money questions, check out Mic's credit, savings, career, investing and health care hubs for more information — that pays off.