Donald Trump accuses 'Morning Joe' co-host of "bleeding badly from a face lift" in Twitter rant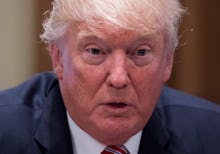 President Donald Trump on Thursday sought to impugn the co-hosts of MSNBC's Morning Joe, accusing Joe Scarborough and Mika Brzezinski of not only being unintelligent and mentally unstable, but also alleging that Brzezinski once had a face lift.
"I heard poorly rated @Morning_Joe speaks badly of me (don't watch anymore)," Trump tweeted. "Then how come low I.Q. Crazy Mika, along with Psycho Joe, came to Mar-a-Lago 3 nights in a row around New Year's Eve, and insisted on joining me. She was bleeding badly from a face-lift. I said no!"
Trump's tweets lit up Twitter, with many saying they were unbecoming of the leader of the free world, and others saying they dripped with misogyny.
"This might be controversial, but it seems like our president sometimes treats women differently than men," New York Times culture reporter Dave Itzkoff tweeted.
Brzezinski responded on Twitter with a photo of a Cheerios box emblazoned with "Made For Little Hands" — a dig at Trump, who has been widely mocked for his hand size.
NBC spokesman Mark Kornblau also tweeted a response.
"Never imagined a day when I would think to myself, 'it is beneath my dignity to respond to the President of the United States,'" Kornblau tweeted.
While the MSNBC PR team said, "It's a sad day for America when the president spends his time bullying, lying and spewing petty personal attacks instead of doing his job."
Trump wasn't the only White House official to take aim at Scarborough and Brzezinski Thursday morning.
White House director of social media Dan Scavino also lobbed attacks their way, calling Brzezinski "dumb as a rock" and saying Scarborough is "jealous" — though he didn't specify of what.
June 29, 2017 10:13 a.m.: This article has been updated.