The new 'Jumanji: Welcome to the Jungle' trailer pulls a couple of genius switcheroos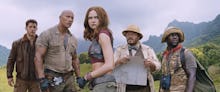 Board games? That is so 20th century.
The Guns n' Roses-soundtracked trailer for Jumanji: Welcome to the Jungle dropped Thursday morning courtesy of the film's star, Dwayne Johnson, who tweeted the exclusive along with a personal introduction:
Now, while it's easy to start groaning at the fact that this is yet another reboot of a childhood cinematic classic, it appears Johnson and Co. have a few fun surprises up their sleeves. Yes, the basic premise is the same: Some kids stumble on an adventure game called "Jumanji" and it comes to life before their very eyes. But instead of it being a board game and having a hairy Robin Williams emerge following decades of captivity — à la the 1995 original — this new version is going full-on 21st century.
That means "Jumanji" is now a video game and the kids in question are sucked into its universe, instead of vice versa. But that's not even the reboot's best twist.
This time around, the four teens pulled into "Jumanji" are magically transformed into their powerful, grown-up avatars, which means the scrawny Spencer, initially played by My Big Fat Greek Wedding 2's Alex Wolff, is now a ripped Johnson who sports the name Dr. Smolder Bravestone.
And in a great example of karma, the blond, selfie-obsessed Bethany is transformed into — Jack Black, aka Professor Shelly Oberon.
To its credit, the Jumanji reboot is honoring its roots by tipping its hat to Williams' character from the original, Alan Parrish. According to an interview Black gave to The Hollywood Reporter, audiences will be treated to a tribute to the late actor:
"We're exploring this jungle and trying to conquer the game; it's life or death," Black said. "But while we're there, we find clues left behind by [Alan Parrish]. He built up a full-blown jungle house, similar to a 'Swiss Family Robinson' situation. It's like he's there helping us without actually being there."
Jumanji: Welcome to the Jungle, which also stars Kevin Hart and Karen Gillan, is due in theaters Dec. 20.
Mic has ongoing movies coverage. Please follow our main movies hub here.