'Ghost Recon Wildlands' Tier 1 Mode: Update 1.07 brings hardcore players increased game difficulty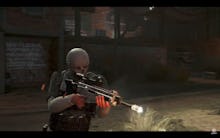 People are always looking for a challenge — and if those people happen to be playing Ghost Recon Wildlands, they're in luck. Wildlands has added a new mode called Tier 1 to help challenge their players. It will give players ranks that slowly increase the difficulty of the game.
What exactly is the Tier 1 mode in Wildlands? Here's what we know.
After you reach the highest level in Wildlands— level 30 – you can turn Tier 1 on and begin playing at Tier 50. A new level bar will be unlocked and will increase the more you win games at Tier 50.
From there, your tier number will decrease and the difficulty will increase. Enemies will become more aware and more difficult to kill. If you don't want to continue advancing in your tiers and are enjoying a specific level of challenge, you can stop progressing.
As a reward, you'll also be able to level up weapons and take down enemies with ease. If you're up for the challenge, this seems like a great way to give Wildlands some longevity.
More gaming news and updates
Check out the latest from Mic, like this essay about the sinister, subtle evils lurking in rural America that Far Cry 5 shouldn't ignore. Also, be sure to read our review of Tekken 7, an article about D.Va's influence on one Overwatch player's ideas about femininity and an analysis of gaming's racist habit of darkening villains' skin tones.