Wildfires in Arizona and Utah force thousands from their homes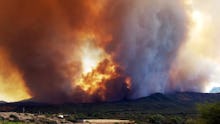 A string of wildfires sweeping through Arizona and Utah have forced thousands of people to flee their homes in search of safety.
Arizona's blaze, which began Saturday, has prompted the complete evacuation of several communities and neighborhoods near the city of Prescott, Arizona, about 100 miles north of Phoenix. Portions of two state highways in the area have also been shut down in response to the fire.
Arizona governor Doug Ducey declared a state of emergency in Yavapai County on Wednesday in an effort to allocate as many resources as possible to squash the flames.
"This emergency declaration will ensure every necessary resource at the state's disposal is made available to assist firefighters and provide aid to displaced residents," Ducey said in a statement. "We continue to stand ready to take further action as needed and provide whatever support is necessary."
More than 600 firefighters are working to extinguish the wildfire, which has torn through 32 square miles of forest. Investigators are still working to identify the fire's cause.
At least 5,400 people have been displaced in Arizona so far, the Associated Press reports.
In Utah, more than 1,500 people have been forced out of their homes due to another wildfire that's been blazing since June 17. The fire began near Brian Head ski resort in southwestern Utah, when someone used a torch to burn weeds.
Tearing through 78 square miles of land and destroying 13 homes, Utah's blaze stands as the largest of the country's 20 current active wildfires.
More than 1,600 firefighters are working to douse the flames.