The House just passed two anti-immigrant bills that are based in myth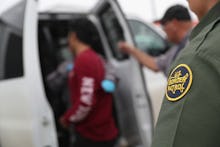 On Thursday, the House passed two new anti-immigrant bills: Kate's Law and the No Sanctuary for Criminals Act. Both bills are ostensibly aimed at curbing violent crimes committed by undocumented people living in the United States. The former bill is named for Kate Steinle, a San Francisco woman who was allegedly murdered in 2015 by an undocumented immigrant with multiple felony convictions.
But immigration and civil liberties advocates say the bills are nothing more than an attempt to crack down on all 11 million undocumented people living in the United States, and that they are part of the Trump administration's attempt to create a brutal "deportation force" to upend the lives of innocent people.
Here are three major reasons why the two bills are based on specious claims about the undocumented community and aren't likely to do much about preventing violent crime.
Immigrants don't commit more crimes than the general population
The president and other anti-immigrant hardliners have frequently pointed to the tragic case of Kate Steinle as evidence of a broader epidemic of violence committed by the undocumented. A statement released by the White House Press Office on Wednesday claimed that "Countless innocent American lives have been stolen because our politicians have failed in their duty to secure our borders and enforce our laws."
But the research shows that just isn't true.
A survey of studies from the libertarian think tank the Cato Institute found that research drawn from census data "broadly concludes that immigrants are less crime prone than the native-born population." It's a fact Immigration and Customs Enforcement Director Thomas Homan basically admitted during an off-camera press briefing Wednesday.
In fact, while the number of undocumented people living in this country tripled over the last three decades, both violent crime and property crime fell by more than 40%.
The bills aren't targeted at people with violent criminal convictions
The measures passed by the House would increase prison time for people caught re-entering the country, with harsher penalties for those with more prior violations.
Kate's Law increases penalties simply for re-entering the country after being deported, and gives greater punishments to people who have committed violent crimes or nonviolent crimes.
The No Sanctuary for Criminals Act would give the administration broader authority to punish so-called "sanctuary cities" that do not cooperate with ICE. But since Trump took office, ICE has ramped up the number of noncriminal arrests it makes. Forcing cities that attempt to protect undocumented residents from deportation to cooperate with ICE could lead to an increased number of noncriminals swept into deportation proceedings.
ICE already prioritizes violent criminals, and has for some time
The spirit of the two immigration measures is also belied by the fact that ICE has been prioritizing violent criminal deportations for years.
Under the Obama administration, ICE already prioritized the deportation of "serious criminals." Though some interpreted this policy as a way to keep more noncriminal undocumented people in the U.S., it was still highly controversial in the immigrant rights community. Many pointed out that the definition of "serious crime" was overly broad and that even low-level, non-violent drug offenses were being used as grounds for deportation.
Ironically, it's these Obama-era policies — focusing on "serious" criminal offenders and not the rest of the undocumented community — that have irked anti-immigrant hardliners who want to deport everyone.
Trump administration officials have said they will stop telling ICE agents to "ignore the law," a signal that agents can once again arrest all undocumented people in the country and not just those with criminal records.
Now it appears that the Trump administration is prepared to go another step further, deporting as many people as they can while also forcing those with criminal convictions into the U.S.' broken criminal justice system. It's hard to imagine how that will help prevent violent crime in the future.