The xx's "I Dare You" video with Millie Bobby Brown from 'Stranger Things' is an LA love letter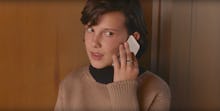 Each of the videos from the xx's plaintive, beautiful 2017 album I See You has played like an ode to two things: young love and the cities that have inspired the band over the years.
November's "On Hold" was set in Marfa, Texas, where the band recorded a portion of I See You with producer Rodaidh McDonald. March's "Say Something Loving" saw the band returning to their London hometown and revisiting places that "remind us of our friendship," as they wrote in a Facebook statement. Thursday's video for "I Dare You" is a "love letter to Los Angeles," the xx wrote on Facebook, "a city close to our hearts."
Directed by Alasdair McLellan in collaboration with Calvin Klein chief creative officer Raf Simons, the video is reminiscent of Ferris Bueller's Day Off, albeit set in the city of angels rather than Chicago.
It features an all-star cast: Paris Jackson and Moonlight actor Ashton Sanders star as a young couple who ditch school to explore L.A., while models Lulu and Ernesto Cervantes play another. Millie Bobby Brown, who plays the endearing but misunderstood Eleven on Netflix's Stranger Things, is Lulu's little sister. After blackmailing Lulu to bring her along on the couple's adventure, Brown is deeply moved seeing the xx playing their slow, elegant "I Dare You" in an empty courtyard. She bursts into tears and sprints back toward the car.
This is the second music video Brown has starred in since becoming a beloved rising talent with her mostly silent but devastating Stranger Things role. In November, she appeared in Sigma's "Find Me," in which she goes on a similarly emotional journey through a busy city. In October, she's set to return as Eleven in the Hawkins, Indiana, setting of Stranger Things — somehow, some way.
Mic has ongoing music coverage. Follow our main music hub here.