'Spider-Man: Homecoming' will introduce the villain Scorpion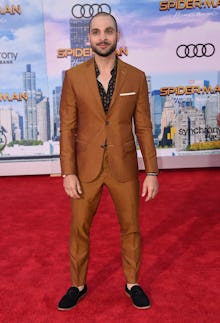 Michael Mando just confirmed his role as Scorpion in Spider-Man: Homecoming.
Mando's role in the upcoming film has been kept under wraps until now. Before the movie's premiere on Wednesday, the actor posted a photo of a Lego figure of the Spider-Man villain on Instagram. The actor wrote in the caption for the photo that he's "over the moon" to be playing the role of his favorite villain, Scorpion.
Who is Scorpion?
Scorpion is just one of the many villains who gets caught in Spider-Man's tangled web.
In the comics, the character is the villainous alter ego of MacDonald "Mac" Gargan, a private investigator who became a supervillain. Like how Peter Parker became Spider-Man after a spider bite, Gargan became Scorpion following an experiment that mixed scorpion DNA with his own.
His role in the movie
It's unclear as to how Scorpion is involved in Spider-Man: Homecoming, as the movie is already well stacked with villains. First, there's Spider-Man's main enemy in Homecoming, Vulture, played by Michael Keaton. Joining him is Shocker, played by Bokeem Woodbine and Tinkerer, played by Michael Chernus. Since a sequel is on the way, it's possible Homecoming will set up Scorpion for a larger role in the next installment.
Where you may know Michael Mando from
With Mando stepping behind the stinger as Scorpion, you may recognize him from a few things. He plays Nacho Varga on Better Call Saul, and over the years he's made guest appearances on shows like Orphan Black, Rookie Blue and The Killing.
Find out how Scorpion attempts to go after Spider-Man when Spider-Man: Homecoming is released on July 7.
Mic has ongoing movie coverage. Please follow our main movie hub here.