Donald Trump faces blowback from all sides following Mika Brzezinski "face-lift" tweet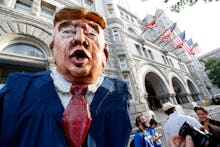 Critics from both sides of the aisle agree: President Donald Trump's "face-lift" Twitter attack on Mika Brzezinski isn't a good look.
Trump went off on the co-hosts of MSNBC's Morning Joe show Thursday, saying he'd heard they "speak badly" of him.
"I heard poorly rated @Morning_Joe speaks badly of me (don't watch anymore)," Trump tweeted. "Then how come low I.Q. Crazy Mika, along with Psycho Joe, came to Mar-a-Lago 3 nights in a row around New Year's Eve, and insisted on joining me. She was bleeding badly from a face-lift. I said no!"
Sen. Lindsey Graham (R-S.C.) was among the first prominent members of Trump's own party to slam the president for the tweet, saying the president's Twitter commentary "represents what is wrong with American politics."
Sen. Susan Collins (R-Maine) said the government and media "don't have to get along," but "must show respect and civility."
Rep. Lynn Jenkins (R-Kan.) deemed Trump's tweet "not okay," adding that as a woman in politics, she's "often criticized" for her looks when people should instead be "working to empower women."
Sen. Ben Sasse (R-Neb.) also called Trump out on Twitter, though not by name, pleading with him to "Please just stop."
And Sen. James Lankford (R-Okla.) said the president's tweets "don't help our political or national discourse" in the wake of this month's shooting of Rep. Steve Scalise (R-La.) and several Capitol Police officers.
Rep. Carlos Curbelo (R-Fla.) similarly urged people to "remember the lessons from the Congressional shooting" and treat each other with "decency and respect."
Unsurprisingly, Trump took hits from Democrats for his Twitter rant even as deputy White House press secretary Sarah Huckabee Sanders went on Fox News to say the president wouldn't be "bullied" by "liberal media."
Sen. Ed Markey (D-Mass.) said Trump's tweets were "unpresidential and warrant an apology."
Meanwhile, Sen. Chris Murphy (D-Conn.) tried to use Trump's blowup to refocus attention on a more pressing moral cause: health care.
June 29, 2017, 12:21 p.m.: This story has been updated.