'Pokémon Go' Shiny Pikachu: Will we see another shiny Pokémon in-game soon?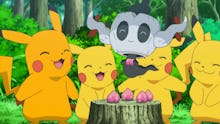 A lot has happened this summer to commemorate Pokémon Go's one-year anniversary — from a weeklong solstice event to a live event in Chicago, as well as a massive gym update and the implementation of raid battles.
There's also a rumor going around that we might be seeing a new shiny Pokémon coming to the game soon — but it's a little more complicated than that.
Pokémon Go Shiny Pikachu: The details about the potential shiny Pokémon are fuzzy
Slashgear reported on Wednesday that a shiny Pikachu was on its way to Pokémon Go. This wouldn't be a huge surprise given that we've had two Pikachu variations in-game already. According to Slashgear, this special Pikachu was set to be released either on the game's first anniversary, July 5th, or at an event called Siggraph 2017, which starts on Saturday.
So what's going on? Are we getting a shiny Pikachu? Well, it's really not as clear as all that. According to a Silph Road post that also went up on Wednesday, the actual ACM Siggraph press release about the event has more information for us:
Near the bottom, the email has this line: "Niantic, Inc., creator of Pokémon Go, will release a rare Pikachu." In another thread on the Silph Road, moderator dronpes supposed that Slashgear was probably using the same information from that email and reiterated that the email stated a "rare Pikachu" but made no explicit indication that it would be a shiny variant.
Dronpes didn't rule out the chance that it was a shiny Pokémon entirely, however. "It's possible," they wrote, "but could also be an 'anniversary Pikachu' or similar variant commemorating the one-year anniversary. Time will tell, travelers!"
As with most things Pokémon Go, we'll just have to wait and see how it shakes out at the Siggraph 2017 conference before we find out whether we're getting shiny Pikachu.
More Pokémon Go news, updates, tips and tricks
Raids are here! See why they may be the key to legendary Pokémon. Find out how to determine how long it will take you to reach level 40, and see what we think of the Gen 2 Pokémon added to the game. Here are the kinds of Pokémon you get from 10-kilometer eggs, and here's where you can check out what you missed during the Water Festival and Solstice events. Find out more about the upcoming Chicago event and why you'll probably be able to catch Unown while you're there — if you're not busy searching for rare evolutionary items, that is.