Melania Trump, anti-cyberbullying activist, reportedly defends husband's attack on Mika Brzezinski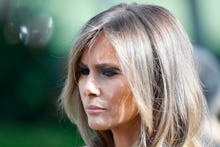 A few hours after President Donald Trump called MSNBC anchor Mika Brzezinski "low IQ crazy" on Twitter and alleged that she showed up at Mar-a-Lago several days in a row last winter "bleeding badly from a face-lift," first lady Melania Trump reportedly defended her husband's comments through a spokesperson.
"As the first lady has stated publicly in the past, when her husband gets attacked, he will punch back 10 times harder," Melania's director of communications, Stephanie Grisham, said, according to CNN White House reporter Jeremy Diamond.
Trump's misogynistic comments largely defined his campaign, most notably after footage surfaced of him bragging to Access Hollywood correspondent Billy Bush about grabbing women "by the pussy." He has also insulted Brzezinski on social media several times in the past, calling her "crazy and very dumb," "not very bright" and a "clown," among other aspersions.
Melania's apparent sanctioning of her husband's comments is especially ironic considering her attempts to position herself as an anti-cyberbullying activist. The final paragraph of the first lady's White House biography page outlines her commitment to the issue as the defining focus of her tenure.
"Mrs. Trump cares deeply about issues impacting women and children, and she has focused her platform as first lady on the problem of cyber bullying among our youth," the passage reads.
It would seem that endorsing the president's cruel treatment of a woman online is not a great start.