Every Jay-Z album, ranked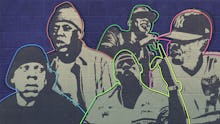 Look at this guy. Look at the smile on his face, the loving gaze, the brimless "Eddie Murphy in The Golden Child" hat. Unless you're familiar with Jay-Z's narrative, you wouldn't guess he was once the world's biggest rap star, or that — before then — he sold crack in Bed-Stuy, Brooklyn. The man we see today is semi-retired, rich and content. He's married to Beyoncé, the queen of pop, the God of us all. He has kids, his own music-streaming service and more money than he can spend.
Now look at this guy. This is Shawn Carter 21 years ago. Suave, brash, and eager to conquer the world. That picture, taken as a promo shot for Jay-Z's 1996 debut album Reasonable Doubt, offers a glimpse of a relatively young man, 26 years old at the time and destined for greatness: countless hit singles and No. 1 albums, summer anthems, more one-liners than Dolemite.
Over the course of his career, Jay-Z has become one of rap's most popular figures, largely because he stayed in our faces year in and year out. From 1996 to 2003, it seemed not a summer went by that he didn't have a new LP for us to dive into. He owned the block and the dance floor. Jigga had street narratives and flossy club jams. And while it's tough to believe this dude is set to release a new album — his 13th solo jaunt, 16th if you count collaborative efforts — the imminent arrival of 4:44 gives us an excuse to re-examine his unparalleled output.
Hate him or love him, Jay-Z is easily one of rap's all-time greats, and he's got a robust discography to match. The hyphen is back. We rank his albums worst to first.
16. Unfinished Business (2004)
Released in October 2004, Unfinished Business is a special kind of flop. It was one we saw coming, especially since R. Kelly and Jay-Z teamed up in 2002 for The Best of Both Worlds to little success. So, when this album dropped with repurposed unreleased tracks, we should've known better than to throw money at it.
But the set still went platinum, even though Kellz and Hova's respective fans likely can't name a single thing from the track list. ("The Return"? "She's Coming Home With Me"? Ring any bells?) It's more likely people recall the fallout from this joint venture: an epic disaster of a tour — which basically imploded onstage during a now-infamous 2004 Madison Square Garden show where R. Kelly claimed he was pepper-sprayed by a member of Jay's entourage — that resulted in lawsuits flying between the two artists.
15. The Best of Both Worlds (2002)
A little bit of history: Jay-Z and R. Kelly did a few tracks together — 2000's "Guilty Until Proven Innocent" and 2001's "Fiesta (Remix)" among them — and thought it'd be a good idea to join forces for an entire record. It wasn't. The stars recorded a full-length LP, but before the double-billed album was released, a tape that appeared to show R. Kelly engaging in sex acts with an underage girl was sent to the Chicago Sun-Times.
The album itself actually had promise. These were two guys at the height of their careers, allying with one another for a once-in-a-lifetime (or so we thought) recording. Songs like the festive "Take You Home With Me" and "Honey" are fine enough, but the whole project feels incomplete. The beats, primarily produced by Kelly and Trackmasters, are undercooked, and it sounds as if the costars simply phoned it in. A more fitting title: The Blah of Both Worlds.
14. Magna Carta Holy Grail (2013)
You can't mention this album without mentioning the rollout. If you had the Jay-Z Magna Carta app on Samsung, the benevolent Jigga offered the album as a free download. Leading up to its release, we saw different TV spots featuring Jay-Z, Rick Rubin, Pharrell and Timbaland just chillin' in the studio. No big deal, that's light work for Jay.
Still, working with those greats just didn't pan out: The beats aren't up to snuff considering the talent involved, and Jay sounds conflicted throughout the LP, like a man looking to step down from his ivory tower in an attempt to reconnect with his gritty past (he'd already pulled that exact move on 2007's American Gangster, to better results).
By this time, after Jay's short-lived retirement and comeback, the inescapable success of 2009's The Blueprint 3 and the opulence of 2011's Watch the Throne, we were plenty familiar with his rags-to-riches narrative. But on tracks like the braggy "Tom Ford," Jay-Z's flow comes off a bit tired. For the first time ever, it appeared the rap game had finally moved on from Young Hov.
13. The Blueprint 2: The Gift & The Curse (2002)
By 2002, Jay-Z had achieved total megastar status and longtime followers knew, more or less, what to expect from him musically: sophisticated club joints, boastful flows and yacht-rap. And while Blueprint 2 features some of Jay-Z's most popular songs — "03 Bonnie & Clyde," "Hovi Baby," "Excuse Me Miss" — the sheer wealth of material really was both a gift and a curse.
At 25 tracks total, this project is weighed down by too much filler, a design flaw that's present in nearly every double-disc platter. In this particular case, the whole thing's front-loaded; many — if not all — of the album's notable songs appear on the first half. This Blueprint suffers from too much of the same sound — by disc two, it all starts to become tedious and dull. The rowdy "U Don't Know (Remix)," featuring New York rap duo M.O.P., is a strong second-half highlight, but it's only one of the few bright spots on a record full of disjointed moments.
12. Kingdom Come (2006)
Ah, the "comeback album." Kingdom Come was supposedly a grand return for Jay-Z, whose previous LP, The Black Album, was dubbed his final release — a premature retirement party for a 33-year-old still in his prime. So, if The Black Album was Michael Jordan's 1998 shot against Bryon Russell in the NBA finals, Kingdom Come felt a little like MJ in a Washington Wizards uniform. The raw skills were still there, but he just wasn't as sharp as before.
There's no denying that Hov's seen better days than this mid-career reboot, but ultimately, this record's undersold by die-hards and even Jay himself. There are some bangers here: "Show Me What You Got" possesses a sultry sort of James Bond aesthetic, and then there's the Chrisette Michele-featuring "Lost One" and the grown-up swag of "30 Something." Kingdom Come might be the first Jay-Z album in which he's a fully realized adult, cozy in his success. The Yankee hat is still tilted, but it's shielding Mr. Carter from the Hamptons sun.
11. The Dynasty: Roc La Familia (2000)
Golden-era rap fans remember Wu-Tang solo releases as not really being solo. Ghostface was all over Raekwon's Only Built 4 Cuban Linx ...; Rae and Cappadonna were costars of Ghost's Ironman. The Dynasty: Roc La Familia falls into a similar category: It's technically a Jay-Z release, but you couldn't tell from the track list. Almost every song features some affiliate (hence the "Roc La Familia" subtitle) — Memphis Bleek, Beanie Sigel, Scarface, Snoop Dogg, Freeway and R. Kelly all make appearances.
Dynasty is a crew record through and through, yet on the jaunty "I Just Wanna Love U (Give It 2 Me)," Jay mostly goes it alone, sans a very notable hook from frequent collaborator Pharrell Williams. Come to think of it, Dynasty was the last time we heard the Roc-A-Fella crew at full strength, before in-fighting broke up the squad.
10. The Blueprint 3 (2009)
In 2009, Jay-Z wanted to destroy the format he helped popularize: shiny, pop-infused rap tunes aimed at the clubs. The way he saw it, rappers should be rapping and shouldn't be juicing their vocals with auto-tune — and he said as much on The Blueprint 3's lead single, "D.O.A. (Death of Auto-Tune)." (That sentiment is a bit ironic coming from a crowd-pleaser like Jay, but never mind that.)
Outfitted with harder production, The Blueprint 3 was a conscious attempt to recapture the triumphant aesthetic of the first Blueprint, but the songwriting just doesn't stack up with the original. Of course, there's one major hit that bolsters this record's legacy — the modern NYC standard "Empire State of Mind" — but the real heat can be found on the flashy "What We Talkin' About," "Thank You" and "Already Home." I hate "Hate."
9. In My Lifetime, Vol. 1 (1997)
I remember being really excited about the release of Jay-Z's second album, In My Lifetime, Vol. 1. I thought it would continue the raw-but-debonair flair of his first LP, Reasonable Doubt. Years later, I realize I was foolish for hoping Jay would simply repeat himself, but that still doesn't change the fact that Vol. 1 inspires little more than a "meh."
The cover art alone signifies a change in philosophy. On Reasonable Doubt, he's the black Michael Corleone, the subtle mafioso type who wouldn't look you in the eye. On Vol. 1, he appears confident, cunning, striving for pop appeal. Just look at that watch and velvety jacket. At the time, a polished mainstream record didn't sound authentic coming from Jay-Z, the ex-dealer and hustler from Bed-Stuy — his first record illustrated the New York drug market in alluring but stark detail. But for his follow-up, he focused less on the moral quandaries and traded orchestral soul for glitzy, of-the-moment production flourishes that really haven't aged well. Not Jay's finest hour, but it's an intriguing moment in his career — this was our first taste of Jigga's pop ambitions.
8. American Gangster (2007)
Inspired by the 2007 Ridley Scott film of the same name, American Gangster is a concept album that draws on the movie's fictionalized version of real-life drug kingpin Frank Lucas (played onscreen by none other than Denzel Washington) and also on Jay-Z's own criminal past. Sonically, this LP catches Jay and an all-star roster of producers — Diddy, Just Blaze, The Neptunes, among others — dusting off and luxuriating in lush '70s soul and funk. When Kingdom Come dropped, naysayers complained Jay had lost touch with the rap game, but when AG came out with its cinematic look at a long-gone criminal underworld, Jay won over the critics again. Sometimes it feels good to wear the black hat and striped Chinchilla coat.
7. Watch The Throne (2011)
Watch the Throne is a mind-meld not just between two of the biggest stars in hip-hop, but between two of the biggest celebrity personalities in pop culture at large. Accordingly, it delivers exactly what one would expect: It's massive in scale, resonant in subject matter, balls-out in tone. Jay and Kanye had a lengthy collaborative history before this record (most notably, 'Ye helped infuse The Blueprint with its power-soul sound) and a complicated big brother-little brother dynamic (for more, see Kanye's aptly named "Big Brother").
But on Watch The Throne, the two shared the mic and gave us stadium-sized anthems we won't soon forget: "No Church in the Wild" and its tribal-infused stomp; the oversized, Beyoncé-assisted "Lift Off"; the hulking "Niggas in Paris"; and the soul-sampling "Otis." And those are just the first four tracks.
Elsewhere, on the observant "Murder to Excellence," Jay and 'Ye drop the cocky veneer to speak on serious issues affecting black communities across America. "It's a war goin' on outside we ain't safe from," Kanye raps. "I feel the pain in my city wherever I go / 314 soldiers died in Iraq, 509 died in Chicago." Jay follows with, "I arrived on the day Fred Hampton died / Real niggas just multiply." No matter how successful you are, some things still cut deep.
6. Vol. 2 … Hard Knock Life (1998)
Perhaps looking to atone for the misguided floss of In My Lifetime, Vol. 1, Jay-Z followed that record by shifting his musical direction yet again — and ended up with some of his biggest hits to date. Powered by the cheeky title track and its pitched-up Annie sample, the Swizz Beatz-produced "Money, Cash, Hoes" and rapid-fire "Nigga What, Nigga Who," Jay-Z's third LP offers accessibility but doesn't stray far from the block. Here, Jigga isn't aiming exclusively for gangsta bravado or trading only in mainstream rap motifs. This record's rich with songs that fit naturally in both realms, splitting the difference between Reasonable Doubt and In My Lifetime. It's an impressive balance, but it's one he'd execute even better on subsequent efforts.
5. 4:44 (2017)
At this point in his career, Jay-Z is here for you, not himself. On "The Story of O.J.," from his surprisingly unguarded 13th solo album, the rapper speaks directly to the listener, breaking down the aspects of financial freedom. "You wanna know what's more important than throwing away money in a strip club? Credit," the 47-year-old asserts. "I bought some artwork for $1 million/ Two years later, that shit worth $2 million/ Few years later, that shit worth $8 million … Y'all think it's bougie, I'm like, 'It's fine'/ But I'm trying to give you a million dollars worth of game for $9.99." It's credited to Jay-Z, but 4:44 is really an album by and about Shawn Carter, the man behind the persona.
This is by far his most personal full-length (and, at 37 minutes, easily his shortest); he cops to cheating on Beyoncé, contemplates his duties as a father, pledges love and support to his mother as she comes out as a lesbian and throws shade at a number of his closest peers. "You got hurt 'cause you did cool by 'Ye," Hov raps on "Kill Jay Z," targeting his Watch the Throne partner. "You gave him $20 million without blinking, he gave you 20 minutes on stage, fuck was he thinking?"
Produced entirely by No I.D., 4:44 is an efficient, wistful affair that's blessed with knockout samples from Nina Simone ("The Story of O.J.," "Caught Their Eyes"), Stevie Wonder ("Smile") and Donny Hathaway ("Legacy"). Here, Jay-Z is rapping like he hasn't in awhile — like he has nothing to prove, and it's clear he couldn't care less about what's trending in hip-hop at the moment. This is therapy for him. Allow him to reintroduce himself.
4. The Black Album (2003)
There's something especially heavy about The Black Album. Maybe it's the overtly dark cover art, or maybe it's because it was marketed as Jay-Z's retirement record. Whatever the reason, it remains remarkably grounded and reflective — this is a superstar looking back on what he's achieved up to that point, preparing to leave the game while he's running the table. Nostalgia's baked into this set — Jay's mother makes an appearance on "December 4th," which serves as an origin story for the emcee — but the mood never turns sappy. It's a celebration, an opportunity for Jay to enlist his favorite producers (Just Blaze, The Neptunes, Rick Rubin, Timbaland and more) and let them do what they do best. "Kanyeezy, you did it again, you a genius!" Jay exclaims at the top of the 'Ye-helmed "Lucifer."
Mr. Carter also nods to a few other rappers on "Moment of Clarity," shouting out Common and Talib Kweli, two "conscious" rappers who lack Hov's mainstream appeal. "If skills sold, truth be told, I'd probably be lyrically Talib Kweli / Truthfully, I wanna rhyme like Common Sense, but I did five mil, I ain't been rhymin' like Common since." More than anything else, The Black Album casts Jay-Z as a genuine fan of hip-hop, someone who loves the form, respects the craft and who also just happens to be one of the best guys to ever hop on a mic. And even though the retirement didn't stick for long, this was the end of an era for Jay. It was the curtain call for his remarkable first run.
3. Vol. 3 ... Life and Times of Shawn Carter (1999)
Here's something incredible to consider: This album is so titanic that even the hidden tracks — the Swizz Beatz-minted "Jigga My Nigga" and "Girl's Best Friend" — are classics. At the tail end of the '90s, when his imperial phase was really kicking off into high gear, Jay-Z was in the zone, touting his accomplishments with remarkable style (from "Come and Get Me": "Yeah I know the platinum chain be lookin' real sweet / But reach and I bury niggas 60 feet deep") and stepping past dudes who were throwing shots at the gawd.
Complex rhymes are the norm on Vol. 3, as are world-conquering beats. 1998's "Hard Knock Life" may have been a major breakthrough moment for Hov, but "Big Pimpin'" was on seemingly endless rotation on MTV and really helped solidify Jay as a major force not just in rap, but also in pop. The crossover was complete.
2. Reasonable Doubt (1996)
In 1996, Jay-Z wasn't on a ton of people's radar. Back then, hip-hop was dominated by icons who are now part of the canon — 2Pac and The Notorious B.I.G. were still living, breathing figures. Jay was just some 26-year-old who had never even put out a full-length, who fancied himself a John Gotti-like figure. But after hearing his first and second singles — "Dead Presidents," a Nas-sampling street narrative, and "Ain't No Nigga," which pulled from The Whole Darn Family's "Seven Minutes of Funk" and featured a then-up-and-coming Foxy Brown — you could tell Jay had something.
His stories felt incredibly real, even if he was inhabiting a character somewhat removed from the real-life Shawn Carter. At this time, Jay still had one foot in Brooklyn's Marcy Projects; his stories carried a raw authenticity. You could see the ominous brick buildings, the blinking light in the stairway that he referenced in his lyrics.
And to match the storytelling skills, he also had some pedigree — cosigns from and collaborations with Biggie, DJ Premier, Mary J. Blige. Jay had been an also-ran in the late '80s and early '90s, a protege to the Brooklyn rapper Jaz-O, but for his proper debut, he reintroduced himself as a smooth talker with a sharp eye for detail and a conscience heavy with regret. More than 20 years after its release, Reasonable Doubt is rightly recognized as a classic, remains close to its maker's heart and endures as a look at the man when he was in the process of building his myth.
1. The Blueprint (2001)
Jay-Z's sixth studio album will always be tied to its release date: Sept. 11, 2001. In the wake of the horrific attack on the World Trade Center, The Blueprint's themes felt enhanced: Suddenly, the triumphant tracks ("The Takeover," "U Don't Know," "Hola' Hovito") defiant in their strength, the bittersweet songs ("Never Change," "Song Cry") especially wistful. But separate from that historical context, The Blueprint simply stands as Jay-Z's best and most cohesive album by far. Across 13 tracks and with a slew of souped-up soul samples, this record offers a nuanced look at the head and heart of a rap star precisely as he's hitting a creative peak. It's a tremendous tour de force that features not only the finest rhymes of Jigga's career, but it's also the record that introduced the world to a crate-excavating innovator named Kanye West.
The Blueprint is littered with hall-of-fame hip-hop tracks: There's the stunning "Renegade," which features what is perhaps Eminem's best-ever performance on a record. There's also "The Takeover," a devastating, Doors-sampling diss track aimed at Nas, Jigga's then-rival in the race to be crowned the king of New York rap. ("I sampled ya voice, you was using it wrong," Jay spits at one point, referring to a track on Reasonable Doubt. "You made it a hot line, I made it a hot song.")
Here, Jay-Z appeased rap heads and club-goers alike and won over critics in a way that he never had before. Not only was it the best overall album released in 2001, it proved that five years after Reasonable Doubt, Jay-Z was still hungry, still eager to rhyme like he had a shot at becoming the greatest of all-time. The Blueprint stars the Jay-Z who likely pops into people's heads when they think of him — because it's got every version of Jay- Z: the playboy; the trash-talking emcee who's determined to smite any and everyone in his way; the Brooklyn boy who's honored to inherit the throne left vacant by Biggie.
Bottom line: This is when Jay-Z really became Jay-Z, the guy who had the smoothest flow, who could afford the finest things in life and who minted hits whenever he wanted.
July 3, 2017, 12:30 p.m.: This post has been updated.
Mic has ongoing music coverage. Please follow our main music hub here.