The best canned booze for every summer occasion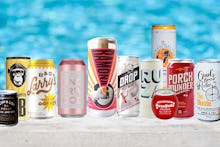 Cans aren't just for beer anymore.
Open my refrigerator any day of the summer (or winter, let's be real) and you'll find stacks of canned cocktails, wines, beers and maybe a LaCroix or seven. Sure, canned cocktails may not be stunning concoctions representing the best of summer mixology, but who are any of us to pass up conveniently (and often adorably) packaged booze, ready to grab for picnics, beach days, impromptu trips to the park and more?
Canned wine has doubled in sales since last summer, becoming a $28 million business, and canned cocktails have diversified greatly since Jim Beam introduced its canned soda cocktails in 1985.
We tried a ton of catchy cans in a conference room (and then all dispersed to our homes to nap) to help you plan your summer around drinking booze from a can, because you can do better than Bud Light. Here's what to drink for every occasion this season.
Best can to sip while floating on a gold inflatable swan in your mansion's backyard pool: Underwood Rosé Bubbles
ABV: 11%
Price: $28 for four 375 ml cans
The enchanting pink can similar in hue and luster to a rose gold iPhone is ultra-stylish and the packaging practically shouts "Taylor Swift Pool Party." The contents do not disappoint: Millennial pink in shade, light in flavor and with soda pop-style bubbles, this sparkling rosé is pleasantly refreshing, even out of the can. You might be inspired to substitute this for water for the entire summer, but the high alcohol content in a single can (which equates about 2.5 glasses of wine) is enough to make you yell at that inflatable pool raft to stop looking at you, swan.
Best for re-energizing when the sun has wiped you out: Bad Larry's Hard Cold Brew
ABV: 6% (plus 180 mg of caffeine)
Price: $9.99 for a four-pack
This caffeinated can of booze is, indeed, bad. But it's a nostalgic, walk into a frat house and remember your glory days because of the smell-bad. So, when faced with a caffeine crisis in which a can of Four Loko or Red Bull vodka won't cut it, a backup can of Bad Larry's may be helpful to maintain a mid-afternoon buzz. Less bubbly than most beers, consider it a cheaply spiked iced coffee for when you desperately need a pick-me-up.
Best for sipping before cocktail hour officially starts: Owl's Brew
ABV: 3.8%
Price: $10.99 for a six-pack
You may know Owl's Brew as the low-calorie, tea-based mixer to be stirred and shaken with everything from cheap vodka to Champagne, but this new product takes the tea flavors and infuses them with alcohol. Of the three shandy-like tea-infused beers, Wicked Watermelon, a wheat beer infused with white tea, watermelon and pomegranate, was our favorite — it tasted like a beer-y fruit cocktail syrup. It was sweet, crisp and we could picture ourselves sipping on it out in the sunshine before a big night ahead.
Best wine after you've already had a few drinks: The Drop Rosé
ABV: 11%
Price: $19.99 for four 250 ml cans
You've probably seen this trendy can all over Instagram, and the light, pink rosé goes down easy. Though it's not as flavorful as some more expressive bottles, a few drinks in, when you're ready for something cold and pink, this can is for you. A cold can of The Drop's red is another nice alternative (toss it in the freezer for an extra chill), but we'd skip the white.
Best canned cocktail to drink with brunch al fresco: Ramona
ABV: 7.5%
Price: $19.99 for four 250 ml cans
Made from organic Sicilian Zibibbo wine, grapefruit juice and sugar, this citrusy cocktail is mimosa-like in taste and usability. The bright aluminum can with a neon Dunkin' Donuts-esque orange and pink label is enticing enough, but the vibrant, refreshing flavors of this sweet drink will make any summer morning more enjoyable. Pair it with waffles.
Best can to slip in your bag for the summer wedding ceremony you really don't want to be at: Ruza
ABV: 12.5%
Price: $14 for three 250 ml cans
Is your ex getting married? Have you been dragged along to a distant cousin's nuptials? Before the open bar starts, make this obligatory wedding attendance a bit more enjoyable with a slim, inconspicuous can of Ruza. With tasting notes of bubblegum and rosé gummies, this pink wine with just a slight spritz is a palate pleaser any time of day. Just make sure it's cold, and that you pop the can discreetly.
Best can-like container stuff in your overpacked weekender: BuzzBallz
ABV: Varies by flavor
Price: Varies across stores, ranges from $3 - $4 per ball
This was not a blind, nor thoroughly objective taste taste, and when discovering from BuzzBallz packaging that the company was woman-owned, we were indeed more inclined to like it. Though a scan of a confusing Forbes interview in which the founder refuses to be called a feminist because she "love[s] guys" may have put a bad taste in our mouths, the Choc Tease was a surprisingly inoffensive White Russian-esque creation to be sipped out of a singular oversize transparent plastic testicle. Okay, we don't really get it at all, but at least it's a conversation starter. Size-wise, a few of these could easily be popped into a beach tote or backpack without much trouble.
Best easy-to-drink cans when you're not planning on sharing your six-pack: The Infinite Monkey Theorem
ABV: 5.6%
Price: $15 for four 250 ml cans
Drinking out of a slim, pink can in public isn't for everyone. We encourage you to try the more neutral cans from Infinite Monkey Theorem, starring a portrait of a particularly intimidating gorilla on the front. Our favorite flavors were the dry-hopped pear cider and the dry-hopped Sauvignon Blanc, which defies everything you thought you knew about the traditionally fruity wine and turns it into a hydration-quenching, beer-like beverage.
Best when pre-gaming while you commute: SpikedSeltzer
ABV: 6%
Price: $16 for twelve 355 ml cans
Perhaps the most puzzling thing about this fruit-flavor concoction is that the can calls it a beer, but the liquid is completely clear. Whatever this malt beverage concoction really is (cold-fermented dextrose is a top ingredient), we'll never know, as the flavors are strong and not at all subtle in a pleasant LaCroix-like way. While the spiked seltzer industry is still developing its craft, this boozy seltzer in flavors like cranberry and lime will do, especially when you want to sip a clear beverage on public transit on your way to somewhere fun.
Best if you only drink Manhattans, even while camping in the woods: Slow & Low
ABV: 42%
Price: $4.99 per can
This surprisingly good canned booze is fancy and rugged all at once. Basically, it's two shots of 84 proof whiskey mixed with a little sweetness (rock candy is an ingredient) in a painfully cute can. If you're one to sip straight rye from a flask on a beach or a rustic summer canoe trip, this liquor-forward brown cocktail, to enjoy right of the can, is your thing.
Best if you're feeling nostalgic for the 2016 Summer Olympics: Novofogo Sparkling Caipirinha
ABV: 11.1%
Price: $3.99 per can
If you're relenting the lack of Katie Ledecky and Simone Biles on your TV come August, throw back to last summer's Rio Olympics with a canned version of Brazil's national cocktail, the Caipirinha. Feel free to sip this surprisingly boozy, but not quite acidic enough (the sugar overtakes the lime), cocktail while watching any sport. Consider adding additional fresh lime to your can if you want to boost the taste.
Best when you want to substitute popsicles with a drink: Jose Cuervo Sparkling Paloma
ABV: 8%
Price: $9.99 for four 200 ml cans
Imagine a melted pink popsicle thrown in a soda stream with some tequila and that's what you're getting with this sickly sweet pink drink. It's best over ice and tastes dangerously like a Jarritos soda rather than a highly alcoholic canned cocktail.
Best wine to sip and immediately forget because you're drunk at work: Porch Pounder
ABV: 13.5%
Price: $24 for four 375 ml cans
By this point in the taste test, our notes were close to incomprehensible. Some deciphering leads us to believe that we liked the taste — the red was our favorite and, if you wanted to pull off a little experiment, we'd bet you could pour it into a glass and no one would guess it came from a can. This is a straight wine you'd want to sip on (or pound on your porch) during a nice summer night. Cheers.