'Spider-Man: Homecoming' reviews: Critics are getting caught in a glorious web of praise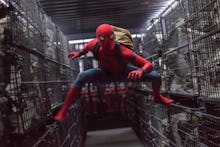 Spider-Man: Homecoming is here save the day after the disappointment that was The Amazing Spider-Man 2.
The latest reboot stars Tom Holland as Peter Parker, the teenager who becomes the web-slinging superhero after getting bitten by a spider. The movie takes place after the events of Captain America: Civil War, and follows Peter's attempt at balancing his high school life with his new role as a superhero.
The reviews are starting to pour in for Spider-Man: Homecoming, and it looks like audiences will be very happy. As of this writing, the movie currently sits at a very fresh 93% on Rotten Tomatoes. Critics are not only loving the reboot, they're calling it one of the best Spider-Man movies yet.
The movie is getting comparisons to that of a John Hughes teen dramedy, which for some critics, like Brian Triutt from USA Today, is why it works so well:
"The magic of 'Homecoming' is that it belongs more to the John Hughes cinematic universe than the 'Avengers.'"
Screenrant's Sandy Schaefer echoed Triutt's statements and said the film works well as both a high school comedy and as a superhero movie:
"'Spider-Man: Homecoming' works as both a (very) funny high school comedy/drama and strong standalone superhero movie set in the MCU."
The film, amid all of its web-slinging, manages to include relatable themes about growing up. Mashable's Angie Han commends Homecoming for doing so:
"Watts nails the timeless cornerstones of adolescence: the crippling anxiety mixed with brash confidence, the life-or-death dimensions of a crush, the impatience to grow up."
Holland's performance is getting a lot of praise from critics who are saying he may be the best Peter Parker/Spider-Man yet. Peter Travers from Rolling Stone couldn't help but gush over his performance:
"News Flash: Tom Holland is the best movie Spider-Man ever. He finds the kid inside the famous red onesie and brings out the kid in even the most hardened filmgoer."
For those critics who may not be in love with the superhero genre, Spider-Man: Homecoming even won them over. Take the Associated Press' Lindsey Bahr's reaction, for example:
"You know what? Superhero cynicism aside, 'Spider-Man: Homecoming' is really fun."
And while some regard Spider-Man 2 as the best Spider-Man movie, Kyle Anderson at Nerdist says this one takes the crown:
"'Spider-Man: Homecoming' is a soaring superhero adventure and is easily the best Spider-Man movie of them all."
Even though this is another Spider-Man movie, TheWrap's Robert Abele says that its true accomplishment is managing to feel fresh:
"Feels a little more punchy, laugh-filled, and exciting than one might expect from a property that's already been given plenty of chances to succeed."
Find out if Spider-Man: Homecoming is truly the best Spider-Man movie yet when it's released on July 7.
Mic has ongoing movie coverage. Please follow our main movie hub here.