'Zelda: Breath of the Wild' DLC Release Time: Pack 1 expansion adds 'The Master Trials' and more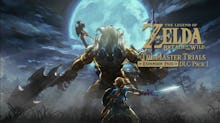 The Legend of Zelda: Breath of the Wild downloadable content release time is almost upon us, and it has fans excited. Unfortunately, however, it does not come with the 2D version of the game that Breath of the Wild's developers created, nor any new Robin Williams references — that we know of.
What the Zelda: Breath of the Wild DLC does bring, however, is Midna's helmet, Phantom Armor, the Master Trials and much, much more.
If you plan on playing Zelda's first-ever actual expansion pack, the question remains: What time can you download Breath of the Wild DLC?
Zelda: Breath of the Wild DLC release time: When will the BotW Pack 1 expansion release?
If you've already purchased the $20 Legend of Zelda DLC pack, there's good news. You may be able to play the expansion pack a day early before Friday's release date.
In an email from Nintendo, the company explained that the Zelda: Breath of the Wild DLC will be available at 12 a.m. Eastern on Friday, which is 9 p.m. Pacific on Thursday evening.
DLC is a relatively new feature for the Zelda series, and this is the biggest post-release expansion the franchise has ever seen. At first, we were worried the only major change would be a new hard mode for the game — a feature that was built into previous Zelda games. At E3 2017, however, Nintendo explained in detail what we could expect from the DLC pack.
The first DLC pack, titled "The Master Trials," brings a new series of challenges along with special outfits and some other new goodies. The 2017 holiday season will see the release of "The Champion's Ballad," bringing even more content to the game. The second DLC pack doesn't have a release date more specific than "holiday 2017," so here's hoping Nintendo brings us one soon.
More Nintendo news and coverage
Looking for more Nintendo Switch news? Check out how blind gamers are using the Nintendo Switch and why you can't get your Mii to look quite like you. Nintendo's left Joy-Con issue turns out to be a hardware problem — here's how to solve it. Find out how to buy a console amid the recent restock. Learn why the Switch cartridges taste so bad. Check out our comparison photos sizing up the Switch to the Wii U GamePad (part one and part two), or find out how to make use of ethernet without the dock and the best way to get alerts when new stock arrives.