Why 'Preacher' deserves another chance in season 2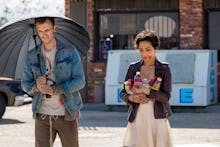 The opening of Preacher's second season flashes the words "The Search for God" and "Day One" in large white font, echoing a new chapter in, say, a comic book, which Preacher is based on. For those familiar with the comic's irreverent tone, it's not completely shocking that the first piece of dialogue for season two centers around whether facial creams are made of foreskin. "70 million circumcisions every year... that they report!" the Irish vampire Cassidy (Joseph Gilgun) cautions.
The foreskin-centric exchanges between Cassidy, the eponymous preacher Jesse (Dominic Cooper) and his feisty ex-girlfriend Tulip (Ruth Negga) — followed by a car chase with police, which turns into an all-out bloodbath thanks to an unknown assailant quite literally spawned from hell — encapsulates what makes Preacher such an alluring series. Even in a crowded genre of comic-to-show adaptations (The Walking Dead, iZombie, Riverdale) — and further, a supernatural drama that doubles as a cross-country road trip (American Gods) — Preacher feels cut from a different mold, a heady mix of comedy and horror.
But Preacher struggled out the gate with its first season, which felt less like an opening season and more an unnecessary long prologue on how Jesse's small-town life was slowly eating away at his soul. It didn't have enough story to support 10 episodes and ended with a whimper. In the finale, Jesse has what amounts to a FaceTime call with heaven to learn God decided to peace out, and the small Texas town blows up thanks to a methane gas factory explosion (in other words: from many cow farts). It was weird, yes, but it wasn't really going anywhere. So the Preacher reset button for season two achieves two things: First, it gives the show a chance to start over with its core characters, and more importantly, it allows new viewers to dive right in without much in the way of prior knowledge. It is "The Search for God," with a lot of insane bumps along the way.
Where season one almost fully takes place in the fictitious town of Annville, now blown up, season two allows Jesse, Cassidy and Tulip time on the road with a more episodic structure. The first three episodes of season two give them a new purpose and multiple settings, as they try to pinpoint God's location with the intention of either helping him, or more controversially, kicking his ass for abandoning his flock. (It's worth noting that Preacher is spectacularly controversial, with the potential of God getting his ass kicked, gay angels and a scene in hell featuring Hitler.)
All the while, Jesse is being pursued by the mysterious Saint of Killers (Graham McTavish), a Terminator-meets-Westworld being from hell tasked with taking him out on account of his "Genesis" power, which allows Jesse to command people with his voice (which is paired with a booming sound effect to indicate when Jesse's giving orders).
To Preacher's credit, it's not handling these overarching narratives at a sluggish pace, which plagued season one. Within three episodes, Jesse and co. have had two epic confrontations with the Saint of Killers — including a shootout featuring the "Greater Association of Gun Aficionados" at a motel that racks up an absurd body count — while learning more about God's purported whereabouts. Turns out, God's a huge fan of jazz (God is apparently Damien Chazelle) and could be somewhere in New Orleans, where the trio heads in episode three.
It's more in tune with the Preacher comics' sprawling storyline; when I say season one felt like a prologue, it only takes half an issue for Jesse's town to blow up in the comics. Deviating from the comics and sticking to Annville in year one — and for the entire season, no less — was a ballsy choice that merits some admiration, even if it didn't quite work. Hopefully, when the opportunity presents itself again, Preacher won't hesitate to again try something different.
It certainly helps that the series is anchored by the stirring chemistry between Cooper, Negga and Gilgun. Like The Americans, the central romance of Preacher features a real-life couple in Cooper and Negga, whose on-again, off-again relationship as Jesse and Tulip gives some much-needed emotional weight to the show's perpetual chaos. And oddly, it helps to have a vampire peddling foreskin conspiracy theories in an Irish accent so impossibly thick that it deserves subtitles. Cassidy is a hilarious third wheel and the lovable foil who may very well get in the way of Jesse and Tulip's relationship, since he and Tulip had a one-night stand in season one.
Look, I know summer television, at least for 2017, is synonymous with Game of Thrones and Marvel's The Defenders: two huge shows that will garner plenty of attention from fans and critics alike. Game of Thrones is perhaps the only show still worthy of the "event television" moniker. But Preacher, for those who languished through season one, deserves a second chance. Newcomers can find the same joy in its batshit, exuberant flair with little to no exposition. Season two explodes on the scene like a bat outta hell — or more accurately, a monster from hell equipped with exploding tracer shells.
God bless Preacher.
The Preacher season two airs Mondays at 9 p.m. Eastern on AMC.