Public Enemy surprise release 'Nothing Is Quick in the Desert' celebrates their 30-year anniversary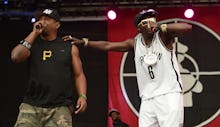 Public Enemy, the iconic Long Island rap group led by rappers Chuck D, Professor Griff and hype man Flavor Flav, has been crafting some of the finest politically disruptive hip-hop over the past 30 years. And at 14 albums in, it shows no signs of slowing down.
On Thursday, Public Enemy surprised fans by releasing its latest album, the 13-track Nothing Is Quick In The Desert. The record is a thank you to followers for supporting the group through "106 tours across 105 countries and countless records," Chuck D wrote in a statement on the album's Bandcamp page.
Nothing Is Quick In The Desert is currently available to download for free.
"This one is on Public Enemy," the MC wrote. "Get it while it's free."
In February 1987, Public Enemy released studio debut Yo! Bum Rush the Show, a hard-hitting, minimalist rap record that made no explicit bows to crossover pop trends.
"It wasn't just a new sound, a discovery. It was like being struck by a meteor," Melody Maker said in their review of the record.
Public Enemy's new album, Nothing Is Quick In The Desert, continues pushing that style, sporting stripped-down loops and confrontational lyrics. "sPEak!" calls for an end to gun violence that continues to end the lives of brilliant men and women before their times. "Dumb shit who can't talk," Chuck D raps. "Need a gun because the brain can't change the terrain."
"Rest In Beats (Part 1 & 2)" toasts to the group's fallen contemporaries, nodding to J Dilla, Sean P and to true lyrical hip-hop, which Public Enemy argues has largely dissolved into "mumbles and memes."
Listen to the new record via Bandcamp here, which is currently available to download for free.
Mic has ongoing music coverage. Please follow our main music hub here.